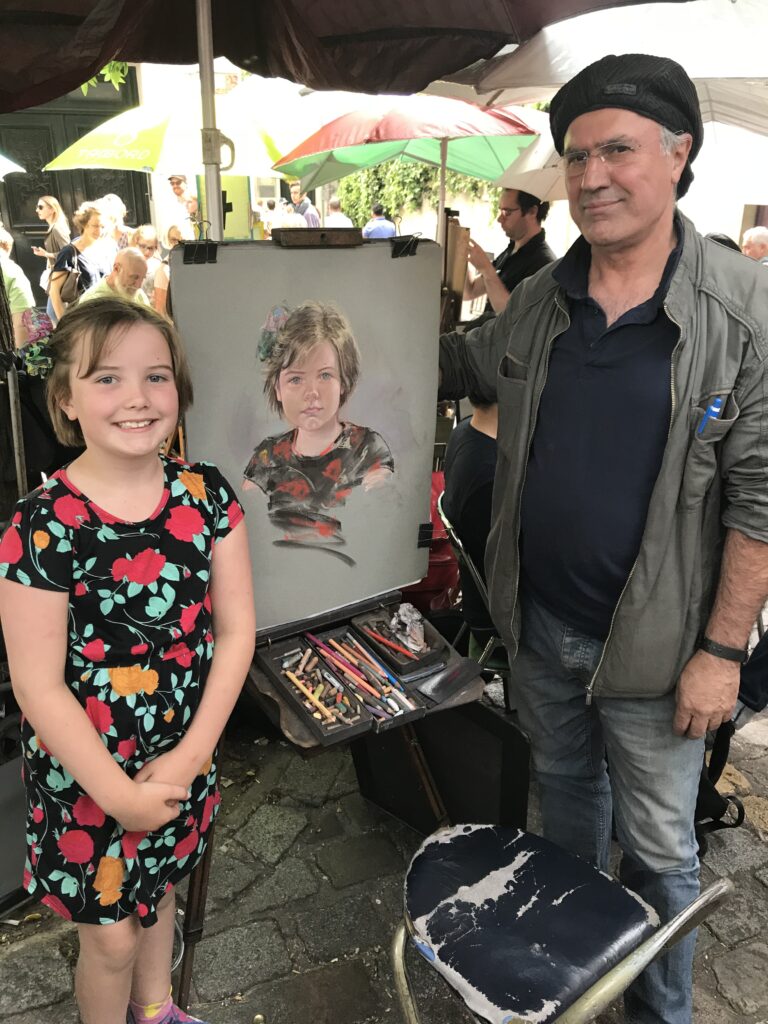 What's the best souvenir you've ever purchased?
We love to travel in our family, and I like to think that, over the years, I've mastered the art of bringing home the perfect souvenir.
Oh sure, I've made many tacky, touristy or senseless purchases on trips – items that fell apart, lost our interest or simply ended up being donated or tossed not long after returning home.
But for the most part, we do a pretty good job choosing one or two really cool items to remember each of our special trips.
I learned this art from my parents, whose home is filled with amazing global purchases from their incredible travels.
One trip at a time, I'm working my way up to my parents' level of world travel and souvenir-collecting.
Sometimes the best souvenir isn't bought at all – but rather found. I'm thinking of the Arizona desert rocks that I scooped up when E pulled over beside crimson cliffs lining the highway during our spring break road trip.
Sometimes the perfect souvenir is actually an investment in local jewelry or art – something you know will last forever and always remind you of a magical vacation. Like my treasured Mexican opal turtle that once was lost but now is found!
The very best trip souvenir in our home is one that hubby and I actually didn't purchase ourselves. Rather, our beloved kiddo (age 8 at the time) chose to spend their precious time and vacation spending money on it – and I am forever glad they did.
The best souvenir ever
During our whirlwind trip to Europe in 2018, we visited three cities in ten days. While in York, we met up with my beloved cousins and aunt whom I hadn't seen in 25 years. It was Xage's first time meeting their English relatives, though they had heard many stories!
After our wonderful visit, my aunt and two cousins each said farewell to young Xage with a twenty-Euro note as a very generous parting gift of "pocket money" (a delightfully English turn of phrase). E and I watched Xage's eyes grow bigger and bigger as the notes stacked up. That was likely the most cash Xage had ever been handed.
Fortunately, Xage is extraordinarily strategic when spending their own money. They hoarded that cash across two countries – and part of me wondered if they would take the Euros home and the money itself would end up being their souvenir – before finally finding something worthy of their precious international loot.
Then, while strolling through the iconic artists' district of Montmartre, Xage watched the Parisian street artists painting portraits and asked me if their money was enough to commission a portrait of themself. Turns out it was exactly the right amount.
"It will take a long time," I cautioned. "You'll have to sit awfully still for ages. It could get boring!" I continued to warn.
But our little 8-year-old artist would not be deterred. They had their heart set on the sheer bohemian romance of sitting for a portrait in Paris, in the very Montmartre square where legendary artists once perfected their art. I wasn't in love with the idea at first, but as time ticked by, I became more and more in awe of the artist's work.
Xage spent their entire wad of European pocket money on a portrait by a grizzled Parisian artist who barely spoke a word of English.
The portrait took well over an hour, but I never learned the man's name or anything about him. He was wholly focused on his portrait of Xage. The work speaks for itself.
I've never been so thankful in my life for my child's amazing taste and thoughtful decision-making – or for a stranger's incredible talent.
This exquisite portrait now hangs on a wall in our home and I see it every day. The likeness is astounding – the artist truly captured the essence of Xage at age 8, confidently sitting for a portrait they had commissioned themself and would pay for with their precious pocket money.
Xage sat so still for so long. They stayed mostly serious, at the artist's request, but occasionally flashed a quick smile at E or me as we sat and watched. Usually, one of us would stay with Xage and crack jokes or quietly marvel at the artist's progress while the other strolled around the artists' square to take in the incredible bohemian vibes of Montmartre.
We loved the area so much, we went back to Montmartre for a second night. We could have visited a new-to-us area and seen more of Paris, but we had fallen completely in love with this little village at the top of a steep hill and many stairs. The great white marble church there, Sacre Coeur, is absolutely magnificent with its perch and scenic overlook.
The portrait doesn't just evoke Xage's ethereal beauty at age 8 and our fun memories of Montmartre, but also the entire trip our family took across England and down into France. It was a magical trip, the painting is a wonder and I love our memories most of all.
That painting is, without a doubt, the best trip souvenir we own. I am so thankful that Xage had the idea to sit for a portrait and then chose a phenomenal artist for the experience. Clearly, we need to follow Xage's lead more often when we travel!
What's your favorite travel souvenir? I'd love to hear your travel tales in the comments below or over on Facebook or Instagram.