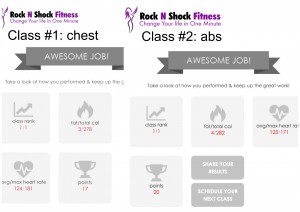 Friends, let me tell you about a gym so clean and pretty and full of bad@ss quotes that just walking into it makes you feel strong and empowered.
Let me tell you about workouts so tough that just the first five minutes of "warm-up" leaves you gasping for breath and with muscles aching for a rest. The first FIVE minutes!
And, let me tell you about a fitness facility so high-tech that thanks to wearable technology on my wrist, I can look up during my workout and see my stats on the big screen and know exactly how hard I'm working – or how much harder I'm expected to work! After each workout, I'm emailed a summary of my stats so I know that I'm progressing and getting better each time. Little by little, these increments add up.
I've worked out to varying degrees all my life with personal trainers, Tony Horton and the P90X3 videos, and even running 5Ks – but these workouts at Rock N Shock Fitness are like nothing I've ever experienced. Every second is utilized. Every cell in your body is tasked with maximum performance. Every millimeter of your lungs ends up gasping for air – and you sweat out of places you didn't even know could sweat.
My first full workout class at RNS was chest and I was sore for almost a week. We worked that chest – oh did we – but also my upper, lower, core and really just my entire body. Likewise, on Saturday I went to the abs class and while my core took a glorious beating, my lower and upper bod also worked HARD. I love the close bond formed with my fellow athletes during each class. Make no mistake, RNS is sculpting female athletes!
I don't know any other way to say this: there has never been a workout program like this or a coach/trainer like Master Breaker Danielle. I feel myself getting stronger every time I set foot in her gym! I both fear/ dread the workouts and simultaneously look forward to the next one with excitement and anticipation.
When I first started going to RNS, I noticed the staff and clients treat Danielle with a huge amount of respect and reverence – it seriously felt like meeting a celebrity or the Pope – and now that I'm working with her on a regular basis, I totally get it. She is a one-of-a-kind and I feel incredible blessed and honored to have the opportunity to learn from and train with her week after week!
I am so completely hooked on this RNS experience – I knew it would be life-changing, and it is.  I can't believe that soon these workouts will feel "normal" as my bod gets stronger and stronger!
This week I'm signed up for three workouts at RNS. Please pray for me that I'll have the strength to get through them and survive the week. There's something about working out and sweating this hard that is cleansing for the soul and making me feel more spiritual!
I'd love to hear about your toughest physical challenge in the comments below or over on Facebook. Thanks for following along with my RNS journey!