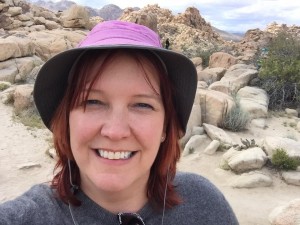 This is my monthly update on my continuing mission to get super fit in 2016. It's been three months now of healthier eating habits, tracking my food intake on MyFitnessPal, aiming for 10K steps a day with FitBit and working out most days. I have completed more than 65 intense workouts this year. I've lost 4% of my body weight and still have far to go.
I love the P90X3 program. I'm getting so strong! I took spring break off from working out formally but still tried for 10K steps each day and enjoyed hiking, boulder hopping in Joshua Tree and tide pooling with the fam.
I feel terrific. Everything fits and some things are getting loose! During spring break, I didn't track on mfp but still ate in moderation and over a week's vacation in Cali, I didn't gain a pound. That's huge for me!
I'm so glad to be three months in. It feels normal now. I know these lifestyle changes are sticking. Z works out with me and knows I'm on a mission to get fit and strong. There's no talk of diets in this house – just of making healthy choices.
Thanks for reading. Sharing these monthly updates is another way of keeping myself accountable. I'd love to hear about your fitness and health journeys, too!