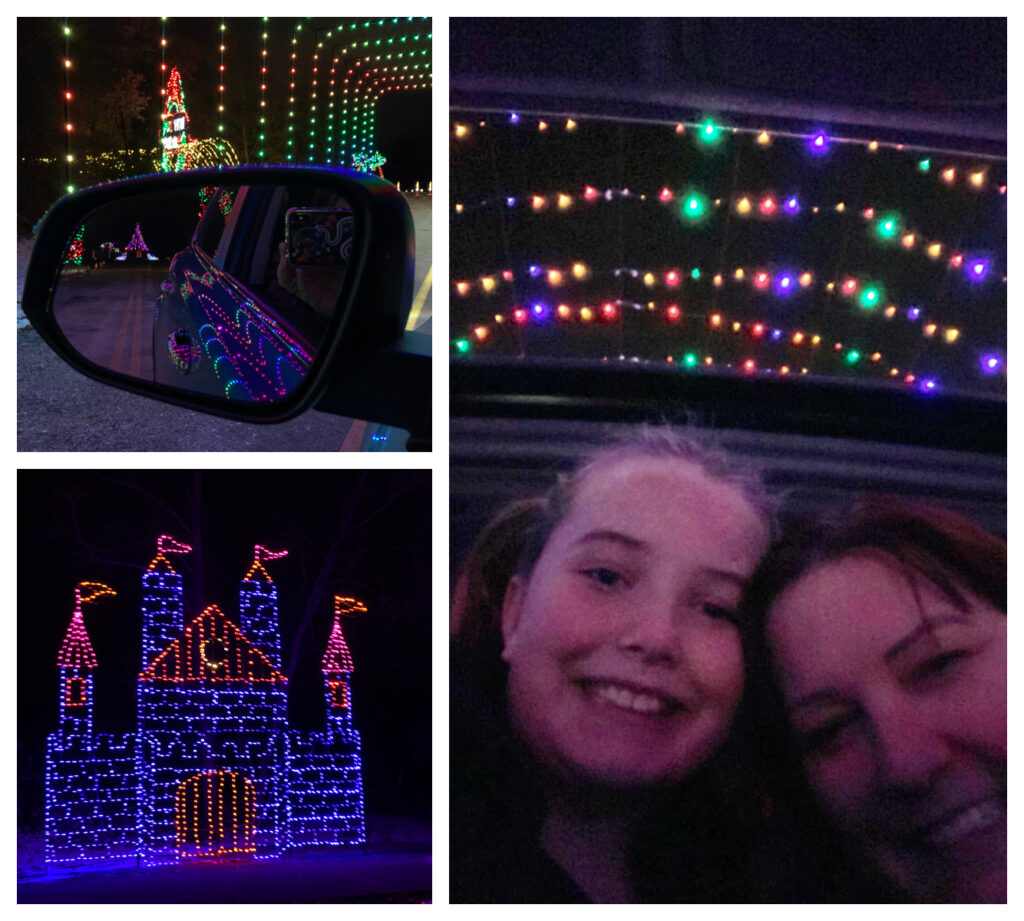 Z and I were delighted to be guests at a special preview of Delaware County's own Butch Bando's Fantasy of Lights last night.
There are many beautiful holiday light displays around Columbus and Lewis Center each year, but none quite like the Fantasy of Lights!
If you are new to our area, the Fantasy of Lights is a drive-through holiday experience featuring festive light displays at Alum Creek campgrounds, just a mile or two from our home in Lewis Center. It has been a northern Columbus holiday tradition for 20 years, and a favorite Christmas tradition for our family ever since we moved to Columbus.
I've loved the Fantasy of Lights since the first time I went through it – before we even had Z. It reminded me of the wonderful, historic Blackpool Illuminations my parents used to take me to in England as a kid. In a word, these experiences are just so wholesome. You're driving through with your family, with Christmas music playing and lights twinkling all around you. And if you're lucky maybe a little snow – or a wild deer or two popping by to greet you.
Since little Zoebelle graced our family, Christmas has taken on a whole new meaning. Now, we actively seek out fun new ways to celebrate the season together as a family – and driving through the Fantasy of Lights has always been one of those treasured traditions.
I can remember Z as a tiny tyke, oohing and ahhing over the light displays and pressing her face to the cold car window! Once she was grade school age, my favorite trick was to get her all ready for bed in her PJs, and then suddenly say "Put your shoes on – we're driving through the Fantasy of Lights!" as a fun surprise.
Now as a near tween, of course, she's old enough that she typically has a list of demands: she wants to sit in the front seat OR be able to pop up through the sunroof OR we have to bring a friend along for her. However, since you pay by the carload ($20 Mon – Thurs, $30 Fri – Sun), there's no harm in grabbing every neighbor, friend or cousin you can fit in your vehicle as that really adds to the value – and the fun.
I'm happy to report that this year's Fantasy of Lights is bigger and better than ever with 30 new displays!
Our preview last night was magical. Fantasy of Lights is always magnificent, but add a little snow and ice and the festively-lit woods of Alum Creek state park really come to life. One of our family's favorite games is to pick a favorite display as we drive through.
This year, there are several new displays so cool that I'm not even allowed to mention them or share pics – so you'll just have to take my word for it (one of them, towards the end, was our FAVORITE for sure!) and get up there to see it for yourself.
Here are some other great reasons to support Fantasy of Lights in its 20th season:
Three years ago, the Bando family converted all 140+ light displays to LEDs to reduce power consumption and provide a brighter, more beautiful show that is also more environmentally friendly.
Money from every entrance ticket sold supports local charities, including Recreation Unlimited and A Kid Again.
Students from the Delaware Area Career Center had a hand in welding and sheet metal creations for the light show. It's a true community extravaganza!
If you're looking for more holiday family fun, be sure to check out our recent post. What are your family's favorite holiday traditions – and do you plan to visit Butch Bando's Fantasy of Lights this year? I'd love to hear your stories in the comments below or over on Facebook. I might even have a free pass to give away to one or two lucky families who comment below!