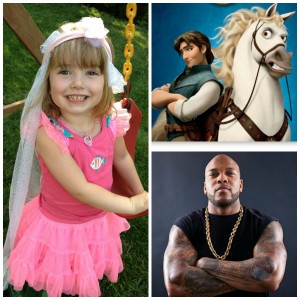 Last night, as I snuggled Zoe in her big girl bed at bedtime, waiting for her to drift off to sleep, she contentedly murmured, "Mama, I found my prince. I know who I want to marry."
Intrigued, I responded softly, "That's great darling, who is your prince?"
And she replied, "The Flynn Rider with dark skin."
I lay in the dark, puzzled, trying to figure out who she meant. I didn't really want to keep talking, because I wanted her to go to sleep, but at the same time I was fascinated.
"Honey, who is Flynn Rider with dark skin? Do you mean Prince Naveen?"
Sounding a wee bit exasperated, she responded, "No, mommy. Flynn Rider who sings. And he has dark skin. And he cries!"
I'm now TOTALLY stumped, and there is no way I'm letting this go. If she falls asleep at this moment, I'm going to have to wake her up. I have to know. WHO is she talking about?!
"Sweetheart, mama has no idea who you are talking about. I'm so sorry. Can you give me another clue?"
She sighs, burrows into the bed a bit more, getting sleepier, and murmurs "he has big muscles mama, and lots of tattoos."
Finally, I get it… it's FLO RIDA! She is talking about Flo Rida. It all comes together: he is tattooed, has big muscles, and has dark skin. He cries in his video for "I cry." E shows her music videos on his phone from time to time.
I'm dying at this point.
"Oh honey, do you mean Flo Rida? Flo Rida who sings a lot of the songs we like?" (And I'm trying not to crack up.)
In a very sleepy voice she murmurs back, "yes mama. Flo Rida. The Flynn Rider with dark skin." And she's out.
And I send her off to sleep with some gentle rocking, because the bed is literally shaking from how hard I am laughing, silently, trying not to make a peep.
Flo Rida is my daughter's prince. The one she wants to marry. Even this morning, I can't stop giggling about this.
And you know what? I am fine with it. He seems like a great guy.