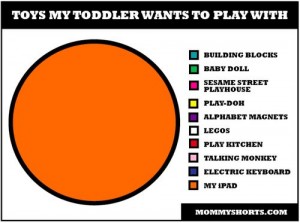 On Fridays, I plan to share with you some of my favorite things. They may range from baby products to books to shopping finds to restaurants.
This week, it's my favorite funny parenting blogs. Parenting is funny – and these blogs capture those hilarious moments in ways that will have you literally laughing out loud at your keyboard.
Parenting: Illustrated with Crappy Pictures. Momblogger Amber Dusick's awesome Paint pictures and sense of humor have made me laugh til I cried on more than one occasion. You will love her pictures and stories about parenting "Crappy baby" and "Crappy boy."
Jason Good is a dad and stand-up comic, and his stories about parenting two toddler sons will have you rolling on the floor. I found him when a couple of his posts about his two-year old went viral. Then I went back and read everything he'd ever written, and I've been hooked ever since.
New mom Modg may not see herself as a humorist, but her posts crack me up daily. She has amazing style, wit and candor, not to mention a wicked way with words. I found her when her hilarious post about breastfeeding set the Internets ablaze, and I've been following her stalker-style ever since. Love ya, Modg.
There you have it – my favorite funny bloggers who keep me coming back for more. I think it's because their humor is always tinged with love:  even while they're laughing at parenting, laughing at their kids or laughing at themselves, you can always tell how much these bloggers love being parents.
Parenting without a sense of humor is like being an accountant who sucks at math.
So, what are your favorite parenting blogs, especially ones that make you laugh?