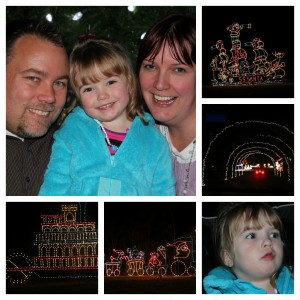 Thanksgiving's over for another year… time to talk about Christmas!
I loved Christmas before becoming a mom, but now it's off the chain how Christmas-crazy I am.
I want to see all of the lights, do all of the festive things, and just embrace this magical season with everything I have!
It's so much fun seeing it all and experiencing the magic anew through a small child's eyes. Zoe had fun at her first Christmas (9 months old) and enjoyed herself immensely last year (21 months old) but I have a feeling 2012 will be our best one yet.
We've already started seeking out fun holiday things to do – especially free or cheap things we can turn into annual traditions for our family. I just found this great list of free things to do around the holidays, and I blogged last year about fun holiday light displays around Ohio.
But my new favorite – and it's just ten minutes from our new home – is the Fantasy of Lights drive-through holiday light show at Alum Creek State Park Campgrounds.
Fantasy of Lights isn't free – it's $10 per carload on weeknights or $15 per carload on weekends and peak nights (Christmas Eve/night and the week prior) – so you'll want to pack your car full of neighbor kids to make it worth your while.
It's easy to get to, but I'll warn you now that it's dark up here in Lewis Center so be sure you're comfortable driving at night on dark and winding roads. The stars are brighter from our new house because of fewer street lights and less light pollution – and I guess that means the Fantasy of Lights shines brighter, too.
E and I drove through the Fantasy of Lights on a whim once a long, long time ago, pre-Zoe. As two lone adults, we found it laughably quaint and a bit cheesy. What a difference a few years makes.
This year, driving through with Zoe, it felt wonderful and magical and festively fun! I will say this is best for little kids though – the tween and teen we had along didn't seem quite as awed by it as the preschooler.
After driving through Fantasy of Lights, you're invited to stop at the gift shop up the road (which is also festooned with holiday lights and impossible to miss) for free hot chocolate and a $5 photo with Santa. We skipped it the night we went, but we may do it another evening soon. I may even drive through Fantasy of Lights again with Zoe – she really did enjoy it and I got such a kick out of her enthusiastic "oohs" and "ahhhhs."
Christmas is coming, and Fantasy of Lights is a fun way to spend one of your December evenings.
I'll bet with a little snow falling or on the ground, this impressive light display would look even prettier. And I'll give you a bonus tip – try to approach from the East on Cheshire Road (so, in other words, if you're coming from Columbus, take Africa Rd. up to Cheshire instead of taking S. Old State up).
The view of Fantasy of Lights as you're driving west toward it on Cheshire, crossing over Alum Creek lake, is simply gorgeous. The twinkling colored lights are reflected and magnified in the dark lake and it's truly lovely.
In fact, if you don't want to splurge for the entry price, simply drive slowly past on Cheshire and you'll be able to see most of it from the main road, plus the gorgeous reflections mirrored in the lake, without ever dropping a dime (though partial proceeds do benefit a good cause – Recreation Unlimited).
One last money-saving tip for anyone who read this far –  print and take along this $2 off coupon for Fantasy of Lights. Enjoy!
So, what are your favorite Ohio holiday lights displays or other festive things to do in the days counting down to Christmas? I'd love to hear in the comments below!