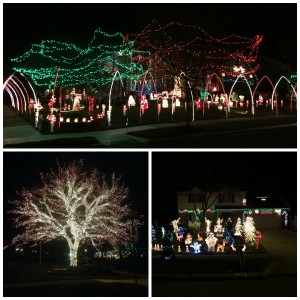 Have you noticed that a new word – lightseeing – has entered the vernacular in recent years? Lightseeing is like siteseeing, only it's focused specifically on seeking and admiring festive holiday lights. It's the phenomenon where you pile your family into the car after dark and head out to see neighborhoods decked out with holiday light displays – the bigger, brighter and gaudier, the better. Take my advice – singing Christmas carols as you go only enhances the experience!
Last night, after doing some research online about the best neighborhoods in northern Columbus, we hopped in the car after dinner and cruised through some Westerville and Lewis Center 'hoods with spectacular light displays. Here are the highlights so that you can enjoy the same drive with your family some night soon:
Crystal Valley Dr. in Lewis Center (just off Lewis Center Rd. across from the Alum Creek Below Dam Area, aka the "dam park" as my daughter like to call it). Head into the Crystal Valley development and you'll soon find yourself in a cul de sac where two across-the-street neighbors are clearly engaged in a friendly and festive holiday lights competition. The results are spectacular and so fun to behold! I really loved both of these displays – a lot of care and fun went into them and one even extends into the back yard. Bravo to these homeowners and I'm glad we live close by so we can cruise past these festive displays a few more times with friends between now and the end of the year!
Olde Mill Drive in Westerville (just off County Line Rd. between Spring and BelleHaven). Cruise into the neighborhood and you'll quickly see a dramatic, ever-changing light display that can only be described as eye-catching. Signs direct you to tune your car radio to 90.9 FM for a holiday music set that is synced with the light show! The homeowner clearly expects a lot of traffic and has also posted signs about collecting canned goods for charity. While we were parked in front, we saw no less than a handful of other cars coming to sit in the cul de sac and enjoy the light show. Well worth a drive from anywhere in Columbus! Also in the same neighborhood is another splendidly lit house with its own music playing – my daughter particularly enjoyed some of the Santa effects here, including a lifelike Santa projection in an upstairs bedroom. And, close to this house is a gloriously and laboriously lit tree that does not come on until around 8:30 pm but which is definitely worth seeing in itself. Overall, this neighborhood makes for the most spectacular lightseeing we've found so far in central Ohio.
Our very own the Shores in Lewis Center (just off Lewis Center or S. Old State Rds.) also has some nicely decorated houses, though nothing quite as dazzling as the above neighborhoods.
I haven't visited this one, but I hear tell that Spyglass Court in Highland Lakes (North Westerville community off Worthington Rd.) has a house with lots of lights set to music. We will be adding this one to our next lightseeing tour!
Last but certainly not least, any lightseeing tour in northern Columbus should factor in a visit to the annual Alum Creek Fantasy of Lights display in Lewis Center. Although the price has climbed in recent years to $15 per carload, we still go once per year while our nieces and nephews are visiting. However, if budgets are tight, you can enjoy many of the Fantasy of Lights displays for free by driving north on Africa Rd. from Polaris and then turning left on Cheshire Rd. to cross over Alum Creek lake. Seeing the Fantasy of Lights on your right, along with their reflections mirrored in the water, is truly gorgeous and well worth a nighttime drive.
So, there you have it – my list of festive and fun light displays in northern Columbus during this holiday season. Lightseeing is a fun, free way to enjoy family time in the evenings leading up to the winter holidays. What have I missed – are there others we should add to our next lightseeing tour? As always, I'd love to hear your ideas in the comments below or on Facebook!