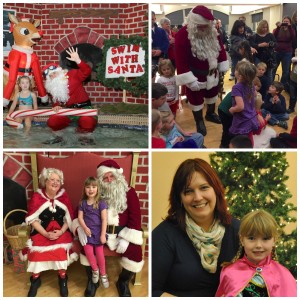 It's beginning to look a lot like Christmas in central Ohio. From Thanksgiving through First Night Columbus on New Year's Eve, there are tons of lights to see and festive things to do with the family. Westerville, in particular, is putting itself on the map as a holiday hot spot for kids of all ages.
Here are four fabulous family events we've enjoyed in Westerville both this year and last. Plan ahead to register for these events next fall – you will be glad you did:
Mom & me holiday tea – In the fall, Zoe and I registered for this fun and fancy mommy and me event. We had so much fun at the spring mother/daughter tea that I knew we'd love this one too, and it did not disappoint. Although it took place in mid November, the space was decorated for the holidays and we each got gifts to unwrap. There were crafts for the girls, tea for the moms and snacks for all to enjoy. The highlight of this tea, as with the spring event, was the fashion show in which each girl got to strut her stuff on a runway as her outfit was described from head to toe. I honestly don't know who enjoyed it most – the moms or the daughters! The highlight for me was a gorgeous portrait of Zoe and I taken by the event staff and printed out in time to give it to us in a cute frame upon leaving the event. What a thoughtful, unexpected and appreciated token of our fun morning together. Plan to attend this event with friends for even more fun and festivity!
Swimming with Santa – New for us this year, this late November event was goofy, festive and fun. Zoe knew we were going to the Westerville Community Center to swim in the fantastic indoor pool. What she didn't know until we got there was that we were going for a special event – to meet and swim with Santa Claus himself. Her excitement level reached a fever pitch once she heard that Santa was at the pool! I honestly didn't know what to expect but this event is adorable for younger kids and we had a very fun time.
Santa "arrives" at the pool by making a big entrance – a splash, literally – as he comes down the jumbo slide with a white pool noodle painted with red stripes to resemble a giant candy cane. Santa wore a muscle suit under his traditional red and white gear, and a Grinch-themed pair of swim trunks on top. I normally am not partial to fake-bearded Santas, but I have to admit that this one pulled it off quite well. He swam with the kids and spent time with the little ones in the shallow areas of the pool before going over to a small Christmas-themed photo set at the side. At this point, parents lined up for our turn having  photos taken with Santa at the edge of the pool. We received a printed photo that night, plus the digital file was emailed to parents a few weeks later – a very nice added touch. I think Zoe will want to do this again next year. The only thing better than an hour or two at the pool is adding Santa into the mix!
Snowflake Castle – I blogged about the Snowflake Castle last year and bought tickets for this year's event, but alas we were unable to go at the last minute. I gave Zoe's ticket away at the last minute to a very grateful stranger when I saw people all but begging for tickets to the sold-out event in a Facebook group for Westerville moms. It's a terrific early December event with photo opps, a hands-on building experience with elves in Santa's workshop, and more – all for just $5 per child. The only catch is that you must order tickets in advance in order for your child to participate! As word about this event spreads, it's likely to become even more popular so be sure to watch the Westerville events calendar and stay on top of when Snowflake Castle tickets go on sale: usually end of October.
North Pole Party – This was another new event for us this year, and I am glad we went. The event took place at the Westerville Community Center on an evening in December. It included dinner (pizza and other kid-friendly foods, including chicken nuggets and much more), holiday-themed crafts at five stations around the room, and time with Santa and Mrs. Claus. The kids got lots of goodies to take home – all the crafts they made plus a jingle bell and the glow of having met and talked with Santa Claus. It was a fun event made even more so by the fact that two of Zoe's best friends went, too. They had a blast, even if the evening did end up with a rowdy, raucous game of holiday hide and seek. Actually, who am I kidding, that may have been the best part.
So there you have it – four fun family holiday events to watch and plan for in 2015 on the Westerville Community Center website. What's your favorite way to get into the holiday spirit in central Ohio? As always, I'd love to hear your favorites in the comments below or on Facebook.