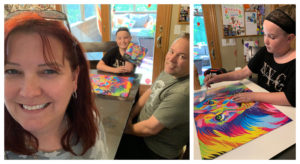 Can this summer be over soon, please? I am serious. As much as I love the weather, there's a lot about summer I don't enjoy.
For dual-career parents (or solo working parents), I honestly feel like summer is the hardest time of all.
Between juggling nannies, camps and flexible work hours to make sure childcare is covered… plus endless evenings and weekends together hearing "Mom, I'm bored" way too often… not to mention worrying that she's getting too much screen time and has entirely forgotten how to read and do math… I will be more than ready for back to school!
Don't get me wrong. I love our summer swim and dive program and how hard Z has worked all season at the pool. I'm proud both of how much she has improved and of the discipline it takes to get up early and work out for 2+ hours, six days a week, between swim and dive teams!
But because she spends so much time working hard at the pool in the mornings, she has no interest in going to the pool for recreation with me in the evenings. So far this summer, I've been deprived of my favorite thing about the season: sunny afternoons/evenings together at the pool!
And it gets worse. We're into a period of pre-tween behavior from Miss ZB that is unbecoming at best and downright awful at worst. We're working on things together, but often on weekends, she loses tech privileges and the TV and other devices become off limits for her… which results in even more of the "Mom, I'm bored" stuff. They say that boredom has its benefits, and can result in creativity. This may be true, but hearing about it constantly also drives me nuts!
Fortunately, during one of these recent tech-free times, we rediscovered the joy of the family jigsaw puzzle. We've got some beauties and they have been so much fun to work on together! I love the creativity, discipline, focus and overall thoughtfulness required to complete a big, difficult puzzle.
Our strategy as a family is to work on it together for a while, then go off and do other things, but always keep coming back to it individually or together throughout the day until it's complete. The rainbow lion pictured here is one of our favorite puzzles ever, so Z glued it all together on a piece of poster board and we're having it framed for her room.
I also came up with a list of "summer boredom beater" ideas recently and printed it out so that she can refer to it whenever she runs into the boredom issue with her nanny during the day. One of the ideas on the list is for HER to come up with her own list of summer boredom beaters – since I'm sure she can come up with an even better list than me if she tries!
What are your tried and true methods for helping kids get over being bored during summer… and do you have any tips for me? I'd love to hear in the comments below or over on Facebook.