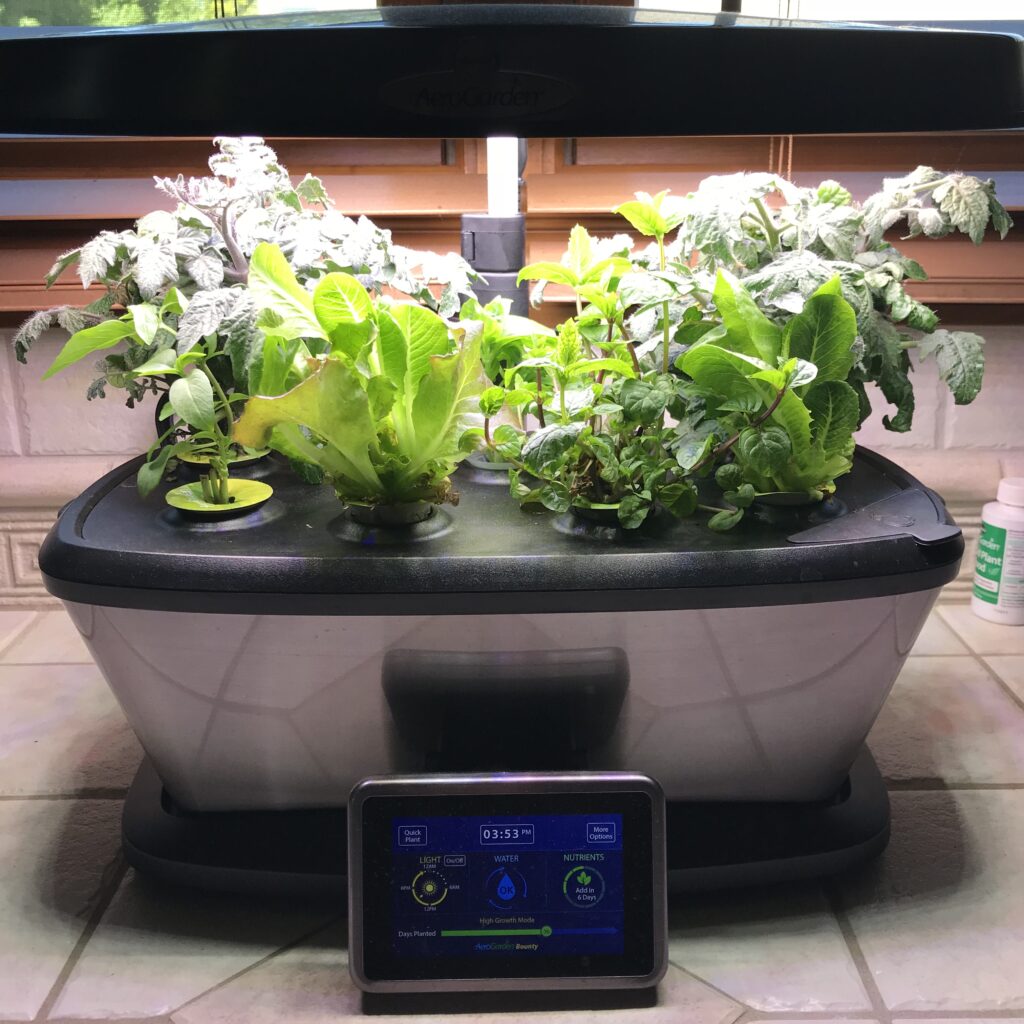 If I told you I have a hydroponic grow operation complete with grow lights right in my kitchen, would you think less of me?
Oh, settle down – I'm only growing tomatoes, cilantro and a few flowers. Nothing too crazy here! And it's easier than it sounds, thanks to my amazing countertop Aerogarden.
Yes, even before my succulent habit began, I was gifted an amazing indoor gardening system with built-in, full spectrum grow lights that turn on and off automatically, plus reminders that tell you when to add water and add liquid nutrients. It's literally idiot-proof – and based on my historic track record as a plant killer, I needed that.
I find my Aerogarden to be the perfect garden: no weeds, dirt, bugs or stooping over. And those awesome grow lights fill your kitchen with the next best thing to sunshine!
In wintertime, I place my succulents and other house plants in a little ring around my Aerogarden so they, too, can benefit from its awesome, growth-inducing glow.
So far I've experimented with growing official Aerogarden seed pods (tomatoes, lettuce, many different herbs and a few flowers) as well as some "grow your own" pods that I filled with seeds I had at the house.
One of our favorites is the Sensitive plant, or mimosa pudica. They grow superbly in the Aerogarden, and they are so fun to play with because the sensitive little leaves close up when you touch them.
My Aerogarden tomato plants did so well this past spring that I ended up gently pulling them from the device and transplanting them outside to a big pot on our back deck. They grew into big tomato bushes out in the warm sunshine and rain, giving us a lovely harvest of sweet cherry tomatoes all summer and fall. My dogs got so addicted to those little tomatoes that they began to help themselves from the plant!
I've just re-started my Aerogarden and will soon be expecting a crop of sweet yellow mini tomatoes, some cilantro, lemon balm and a few flowers. Indoor gardening is a fantastic hobby that is great for kids or absolutely anyone of any age. If you have someone on your list who is hard to buy for, consider an Aerogarden! It's one of the most thoughtful gifts I've ever received.
Do you dabble in indoor gardening too? I'd love to hear your green tales in the comments below or over on Facebook.