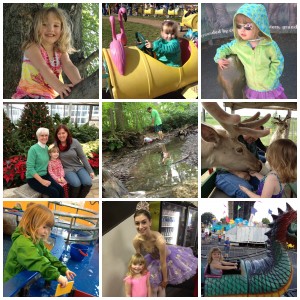 Do you have a family fun "bucket list" started for 2014 yet? If not, here's a great start. I've looked back over the past year and chosen our favorite family fun activity from each month – some of which I've blogged about before, some of which I haven't.
Here's our list of the top 12 family fun activities in Columbus from 2013 so that you can plan ahead for a super fun 2014 with your family!
January – Go fish-watching at the Columbus Zoo's Discovery Reef aquarium. When it's cold outside, there are still loads of fun things to do indoors at the zoo – including the Manatee Coast building, the Reptile house, Bob & Evelyn's Road House and Nocturnal Building (in Australia) and the Discovery Reef aquarium. We've been known to sit inside the aquarium building for up to an hour enjoying the sights… and if you want to check it out before you go, there's a live aquarium cam!
February – Spend a day at central Ohio's gem for families, COSI. We absolutely adore this place and I've blogged about it many times before. Little kidspace, the place to be at COSI for the five and under set, recently got a makeover and it's like a totally new experience. Zoe had a blast there during First Night Columbus, and we'll be heading back there again before this winter's over.
March – Behold the butterflies at Franklin Park Conservatory. I love that they arrive each year just in time for Zoe's birthday. These aren't just any butterflies – they are gorgeous tropical varieties, each one more exotic and beautiful than the last. I adore the conservatory any time of the year, but during the butterflies exhibit it's especially wonderful – and this annual event is a great harbinger of spring in Columbus.
April – Walk the plank at Hoover Mudflats. Okay, so this has absolutely nothing to do with pirates – but it is a really long, super cool boardwalk that juts out over the mud and water at Hoover Reservoir in Galena, Ohio. If you're lucky you'll see and hear all kinds of aquatic birds or possibly even an owl or other bird of prey – and we've even seen deer go swimming here! If you're quiet and still, you'll be amazed who and what you might find here – including giant carp in the shallows. This is definitely one of our favorite outdoor adventures in and around central Ohio, and once you visit it will become one of yours as well.
May – Feed and pet the animals at Rolling Ridge Ranch. I blogged about this awesome Amish animal adventure several years ago, and we've been back every year since. This has become one of Zoe's favorite late spring activities – and this timing is perfect if you want to see lots of adorable baby critters. The horse-drawn wagon ride is exciting and fun, and the petting zoo and other animals to visit around the grounds are the icing on the cake. In recent years, we've become big fans of another nearby Amish animal encounter, too – the Farm at Walnut Creek. You honestly can't go wrong with either one, but Rolling Ridge is our favorite unless we have a hankering to see and feed giraffes, which are only at Walnut Creek.
June – Go creeking in the clear waters of Central Ohio's rivers and streams. What better way to cool off and enjoy nature than by exploring a sunny or shady creekbed? I wish I could share a list of the best places to do this in Columbus, but that's a list I'm still compiling myself (I hope to blog about it this coming summer!). I can tell you we had a great experience creeking at High Banks Metro Park and I've also got high hopes for the new Shale Hollow Preserve park now open near us in Lewis Center. I'll report back on this one – and I'd love to hear about your favorite local creeking spots!
July – Watch the fireworks from the beach at Alum Creek state park. When we moved to Lewis Center, we were thrilled to find an actual, real beach (albeit manmade) right near our house. Here, you can enjoy sand volleyball, wading and even swimming – and of course, a boat parade and great fireworks after dark on the 4th of July. We can actually see the fireworks from our driveway, but there's someting about cozying up on a blanket on the sand that makes this an even more fun summer activity.
August – Explore the Ohio State Fair. Farm animals, fried foods, carnival rides… it's no wonder our whole family loves the State Fair! Each year it gets to be more and more fun as Zoe gets older and able to do more. We always love the exotic animal petting zoo tent, pony rides and Kiddieland rides. This past year, we absolutely adored the new Sea Lion Splash show – I really hope they bring that back! Walking through the livestock areas to admire cows, horses, sheep and other animals is also a highlight for us, as is the OVMA birthing and new mothers tent where we've seen newborn and birthing calves and lambs (can be a bit bloody, but oh so cute once they're cleaned up!).
September – Go adventuring at Pigeon Roost Farm. Fall in Ohio is one of our favorite times of year, and there hardly seem to be enough weekends to get in all the family fun activities that abound during these months. One of our favorites this year was Pigeon Roost Farm, especially the Enchanted Forest and obstacle course (which we never even discovered in previous years' visits!). Zoe fell in love with the ropes course and did it over and over again until she mastered it. If you go, be sure to watch for the signs for the Enchanted Forest, make your way through the corn and fully explore all the fun stuff there is to do in those woods!
October – Have fun at Leeds Farm. This is another fall family fun favorite (say that five times fast!) for us. Zoe especially loves the Banana Bus, Pumpkin Jump and, as of this year, the kiddie zipline. She must have done it a dozen times – and earned the awe of several older kids who couldn't believe her stamina! She also loves feeding the goats, playing in the corn boxes and sliding down the big hill slide. There's nothing quite like a sunny, crisp fall day at the farm!
November – Dance with the Nutcracker at BalletMet! One of central Ohio's best-kept secrets, this annual event is a super special one for little people who love to move their bodies. I wrote all about our Dancing with the Nutcracker experience – mark your calendars now and remember it sneaks up fast immediately after Halloween. I can think of no more magical way to get yourself into the holiday spirit than by watching little ones practice their ballet moves and get inspired by short, magical performances from ballet stars like the Sugar Plum Fairy.
December – Build a toy with Santa's elves at the Westerville Senior Center's amazing Snowflake Castle. This is a week-long annual holiday event that will celebrate its 30th year in 2014. It is honestly not to be missed – your child will love it! Highlights include choosing, building, painting and decorating a wooden toy in Santa's workshop with helpful elves, photos with Santa and Mrs. Claus, and other wonderful surprises I wouldn't dream of spoiling by writing about them here. And did I mention – you get all this for just $5? Be sure to get your ticket well in advance and keep to your appointed time, as this awesome event sells out each year.
End of year bonus event – I'd be remiss if I didn't mention another fantastic December family event to wrap up the year, and that's our very own First Night Columbus. For just $8 (if you purchase your ticket in advance at Giant Eagle), you get full access to COSI for the evening, plus a bunch of other fun family-friendly activities and events over at Vets Memorial across the street. This was our first year at First Night and we will definitely be back. Zoe is still talking about it!
Phew. 2013 was a great year for family fun in Columbus, wasn't it?!
It was hard to pick our favorite moments – but I did my best with this list. What about you – what were your family's favorite fun activities in 2013? Got any to add to this list? And what are you planning to do in 2014 that you haven't done before as a family? I'd love to hear in the comments below.