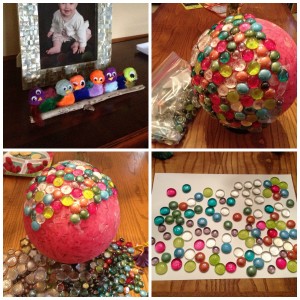 Art has been a huge interest for Zoe from toddlerhood on, and we're finding that as she grows and matures, she wants to create and be artistic almost all of the time. A blank pad of white paper, her crayons and her markers, and sculpting clay are always easily accessible in our kitchen – but she craves more. She loves glueing, stickering, drawing, designing, sculpting, building and decorating. So here are a few of our recent projects, creations and finds – hopefully you and your family will enjoy them, too!
The bowling ball project. I've always loved garden gazing balls, but they are easily breakable so not a great choice with little people around. But there's a gorgeous, sturdy equivalent that is easily made at home with an old bowling ball (found at garage sales, through asking friends, or even by calling bowling alleys to ask if they have any old balls they want to retire). Once you have your bowling ball cleaned and lightly sanded, all you need is some good quality, all-weather craft glue and those flat-bottomed glass gems you can find at craft stores. Just search on Google or Pinterest for "bowling ball art" and you'll find hundreds of images and how-to's. Zoe and I created two beautiful bowling ball projects, one of which we gave to her Indiana cousins for Christmas and one we kept. This was something we worked on for 15 minutes at a time over many, many evenings and weekends during the colder months. She loved being able to choose the glass gem colors at the store, as well as the process of selecting which one to put on next. She did really well with the glueing, too. I loved how easy this project was – and the resulting art spheres are absolutely stunning. It's something we'll definitely do again once I get my hands on some more old, unwanted bowling balls!
Fairy garden fun. Zoe has always loved rocks in every shape, size and color. She had a massive rock collection – as well as many "gems" unearthed during our various gem-mining adventures – so I was thrilled to find a way to turn all of these treasures into a new creative play zone at our house. We took an old plant pot, a 20 lb bag of small rocks/large gravel, our collection of found rocks and gems, and a few handfuls of various plastic or rubber miniatures (we especially love the Safari Ltd. Toob animals) to create a fairy garden on our screened-in porch  that Zoe comes back to again and again for imaginative play and to re-design and decorate the space. We use twigs for trees, pinecones for decorations and other natural and miscellaneous upcycled items to serve various functions in our miniature world  (like plastic lids for swimming pools). We got the idea from our veterinarian, whose office has several gorgeous little rock gardens adorning their front sidewalk. If your little one likes miniature play, this could be a super fun new activity zone for your front porch or back deck.
Chicks on a stick. Around Easter time this year, I found this adorable "pom pom birds" kids craft on Pinterest and knew it was perfect for us. We had all of the supplies already – pom poms (we call them puff balls), glue, googly eyes, colored feathers and bits of felt for the beaks and feet. We also had a cool piece of driftwood we had collected on a beach vacation years ago, which I've been hoarding for the perfect craft project. Zoe and I had a ball choosing puff ball colors, glueing on the eyes and feathers and beaks, and then figuring out how to line them up on the driftwood "branch." Once we had completed our chicks on a stick project, it was so cute that I couldn't put it away with the Easter decorations. It has remained a year-round decoration for us. Fun in the creation, plus a total keeper – that's a win/win! This would make a super cute gift for a mom or grandma, too – just make as many chicks as she has kids.
Painting rocks. This is one we haven't done yet but it's on our family fun bucket list. There are SO many fun things you can do with painted rocks. I've got the paint, googly eyes and other decorative supplies – now we're just in search of the perfect rocks. It's more fun to find them than buy them, don't you agree?! This summer while we're creeking, you can bet we'll find some good specimens and bring them home so we can paint them up into new lives as animals, monsters or whatever else we can dream up. Pinterest has tons of great inspiration for what to do with painted rocks, including ladybugs, a duck family, story stones and more.
So those are our current favorites – a little more interesting than the usual. What about you, do you have arts and crafts projects that your kids love? I'd love to hear about them in the comments below, as always!