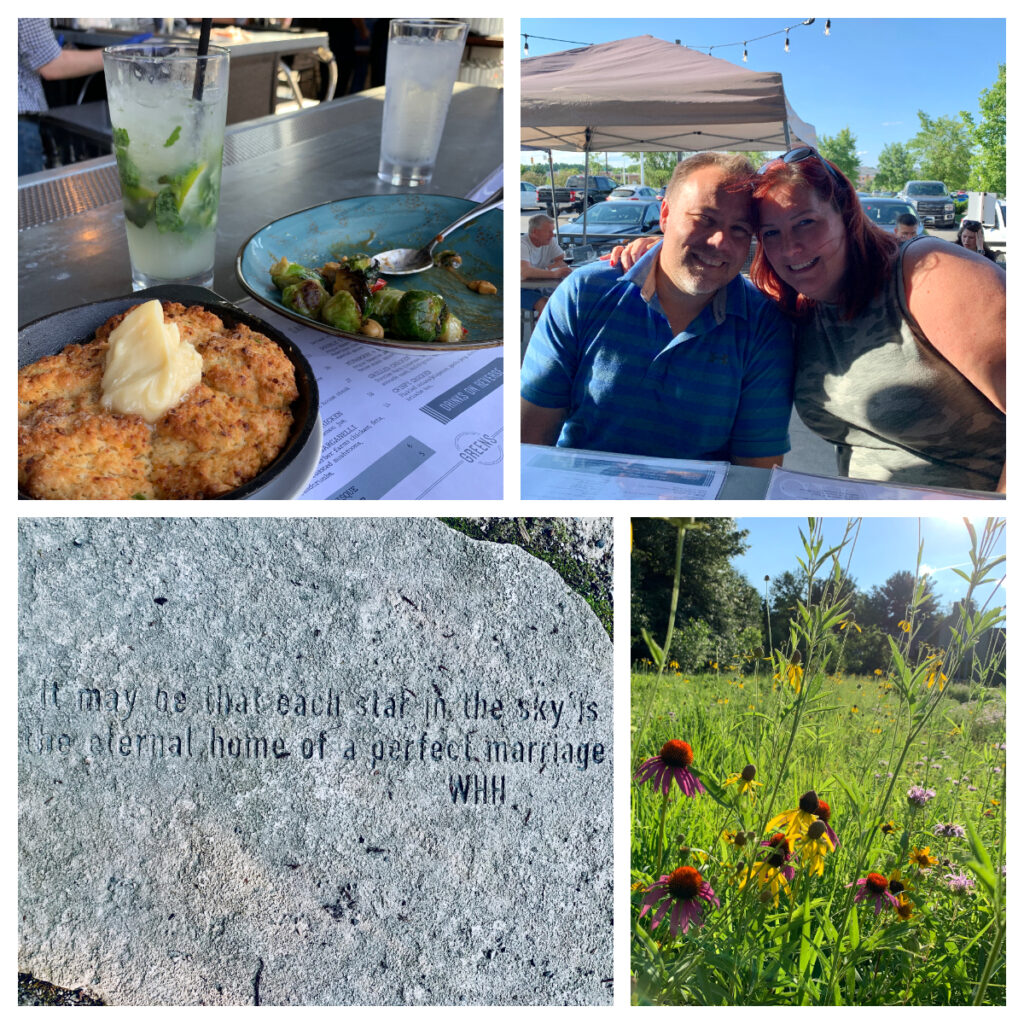 I've always been a huge fan of date nights. But right now, between 24/7 parenting, working and worrying about a pandemic… ugh.
It's a lot for any couple! And too often, time together as a couple gets put on a back burner. It does at our house, anyway.
So sometimes it's an absolute necessity to find a great sitter and leave the house for a few hours. It doesn't matter where you go or what you do – and it certainly doesn't have to be expensive! The goal is simply time away; time to be together and time to put the rest of the world on hold for a while.
Here's what we did for our long-awaited date night this month. It was one of our favorites in a while!
First, we reached out to Z's favorite sitter and asked if she'd like to hang out with Z for an evening. The kids are all home from college right now and no one's going anywhere, so it's a great time to get a sitter! The sitter's mom even checked in with me to make sure we're all healthy and quarantining at our house, which I liked – it made both of us moms feel comfortable!
When date night arrived, I got Z and her sitter a Jet's cheese pizza, and then the two of us jetted out the door. We masked up and headed out to a new-to-us spot, Kitchen Social. I had heard great things and loved what I've seen on their Instagram.
Without a reservation, we were still able to grab two seats at the outside bar. They told us it was happy hour so drinks and appetizers were half price – an unexpected bonus for us!
It was a hot and sunny evening, but there was a nice breeze and good shade on the patio. We started with the Brussels sprouts appetizer and an order of the cheddar biscuits with honey butter, which I had been told were a must try. Both dishes came out hot, perfectly prepared and absolutely delicious.
We were still hungry, and everything on the menu looked incredible, but we didn't want to end up overly full or with leftovers so we just had another appetizer each and called it dinner.
I had the Korean BBQ cauliflower and it was so wonderful it was almost otherworldly. Imagine cauliflower that is crispy, sweet, spicy, satisfying and addictive as candy. Yes, you need to try it.
Hubby got the Asian BBQ chicken wings, in a similar sauce to mine, but I think the crispy cauliflower won this round. As we sat there, finishing our drinks and second round of appetizers, enjoying the sun dipping down behind us and taking a few photos at the bar, I wondered "how are we going to ever top this?"
After our meal, we hopped back in the car and hubby took our night to the next level. How? He asked me if there's a nearby park I've been wanting to go to. He knows me well – instantly I said "yes!" with maximum excitement. I love nature walks and hikes better than just about anything!
And that's how we ended up at Deer Haven Park, up the road in Delaware, for a romantic stroll through the prairie and woods. A friend recently mentioned liking this nature preserve – part of the wonderful Preservation Parks properties – and it's been on the top of my to do list ever since. It was awesome!
Although we didn't see any deer, we saw bunches of bunnies and loads of gorgeous flowers, trees, birds and bees. And a few humans, but not many so it was easy to social distance.
My favorite things about Deer Haven were gorgeous views, lovely clean bathrooms (open in the back of the building even when the nature center is closed) and the most romantic little forest clearing with beautiful quotes from the Havener family.
It's hard to describe this without it sounding like we walked into Narnia – it actually did feel that way. So here we were on this date together, just the two of us. We walked through a sunny prairie filled with flowers, then into dark, cool woods and down steep staircases into a shady valley with a dry creekbed and rocks to step over.
Then, we found ourselves on "the other side" (in Narnia? Or possibly at a completely separate park called Havener Park? I literally don't know). And in a clearing is a statue dedicated to a married couple, the Haveners, by their kids. And then, all throughout the clearing, there are these engraved stepping stones with quotes on them. Some quotes were romantic, others philosophical, a few practical – and all were wonderful to read.
How many other people have found the Haveners' secret stepping stone quote garden? I googled and couldn't find a word about it online. It's not mentioned on the websites for either Deer Haven or Havener park – and like I said, I'm not even sure which of the parks it actually is in, since they overlap a bit.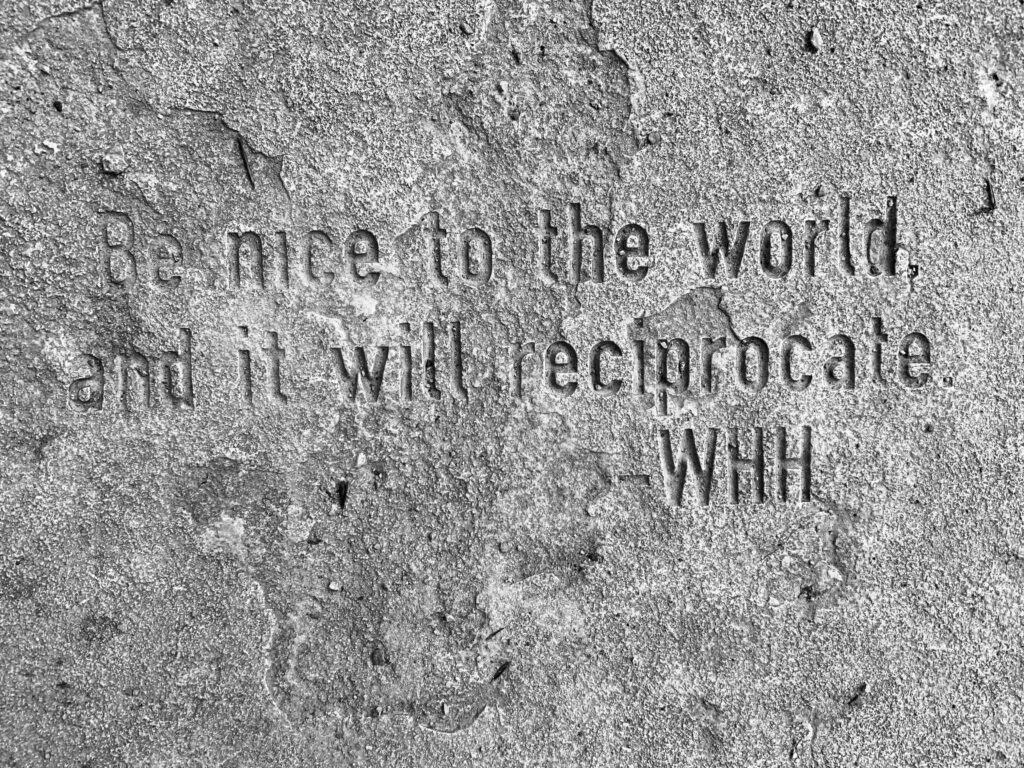 Will I be able to find this wonderful stepping stone quote garden again? I love nature walks, quotes and romance, so you'd better believe I'm going to try. Here is one of my favorite quotes from the garden:
It may be that each star in the sky is the eternal home of a perfect marriage.

~WHH
See what I mean about a perfect date night? Scrumptious meal on a patio, followed by a lovely, meandering nature walk and ending at a secret, romantic quotes garden. We couldn't have planned a better evening if we'd tried.
What was your favorite date night, and have you had them since the pandemic hit? I'd love to hear your stories – and date night ideas – in the comments below or over on Facebook.