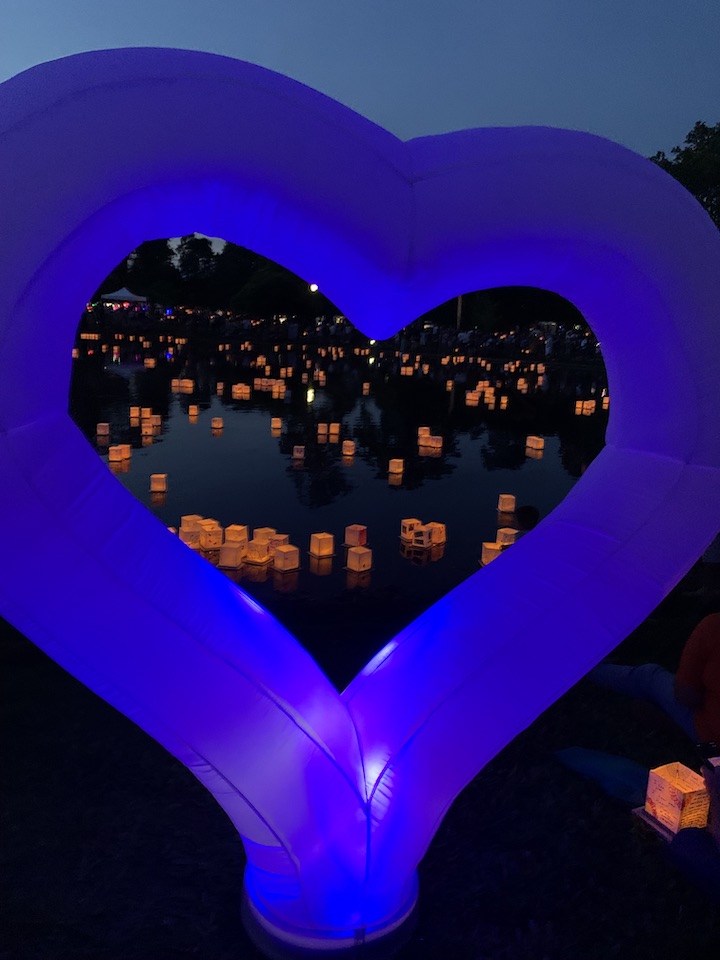 We loved the Water Lantern Festival in its original, downtown Columbus riverfront location.
The sight of thousands of glowing water lanterns floating down the Scioto river was beyond magical, as we shared in our 2019 review.
But then the whole world ground to a halt. In 2020, all large gatherings and big events were canceled for few years.
When the Water Lantern Festival finally came back around to Columbus in 2022, we noticed the location had been changed to a park with a small, pond-size lake.
Would the event still be as magical now that it was being held at Franklin Park? We couldn't know for sure unless we went. So, I purchased tickets while crossing my fingers that it wouldn't be a waste of money or a disappointment for our family.
Wouldn't you know it… we LOVED the new location!
Sure, we missed out on the amazing riverfront view of downtown Columbus and the skyline at sunset. Still, I'm happy to report that the Water Lantern Festival event is just gorgeous and fun for families even when held in a smaller park.
The Water Lantern Festival is a total vibe and one of our absolute favorite summer events in Columbus. Imagine food trucks, loads of families and couples relaxing on the grass, a DJ playing great tunes and, ultimately, a lake covered with glowing lanterns galore.
We loved spreading out our blanket in the park, grabbing some delicious Aloha Aina food, decorating our lanterns and soaking up the vibes. Then, as the sun went down and the glowing lanterns began to light up the night, we enjoyed walking around the park to take in the amazing sights.
There was plenty of parking not too far away from the event, and a free shuttle conveniently took event-goers to and from the parking area and the event itself. Lots of signage let you know you were in the right parking lot and area of the park (turns out, Franklin Park is actually pretty big!)
While the Water Lantern Festival is not inexpensive by any means, I do think it's worth the cost because of how unique and magical the evening is. We find ourselves using our Water Lantern Festival keepsake drawstring bag throughout the year.
And, I love that the festival organizers commit to cleaning up after the event so you know they leave the park in equal or better condition to how they found it.
When you're planning fun summer activities for your family or things to do for date nights or with friends, definitely factor in the Water Lantern Festival. I think you'd love it as much as we do.