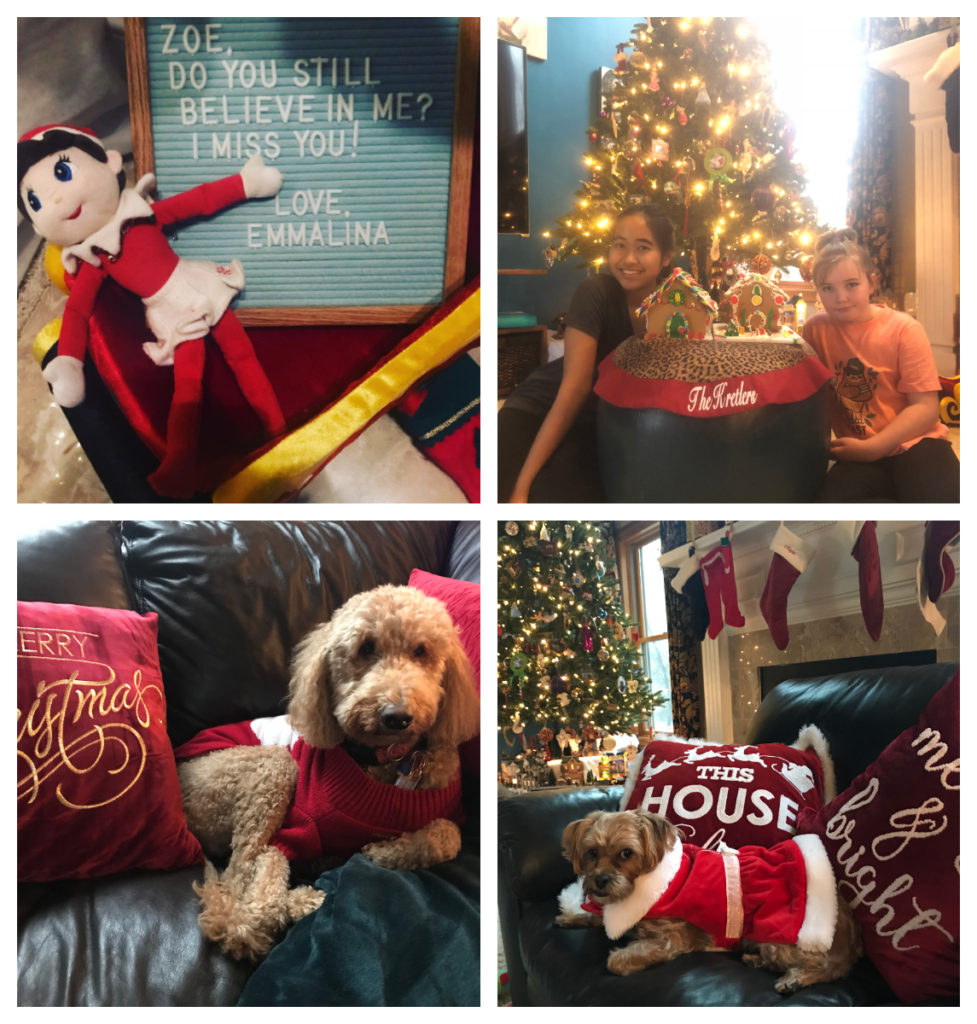 I've blogged before about how much our family loves Halloween – but we're nuts about Christmas, too! For us, Christmas isn't about just one day of gift giving, but rather a whole month or more of special family time including decorating, baking together, going to see holiday lights, watching goofy Christmas movies and doing acts of service for others.
Last Christmas was even more special because we were sharing it all with Napa for the first time – and it was her first Christmas ever!
I'm determined that this holiday season, even though we're headed to California and Mexico for the actual week of Christmas, we're still going to achieve maximum merriment in the weeks leading up to our trip.
If your family loves gearing up for a fun and festive Christmas too, here are some of our best posts to help get you in the mood for holly, jolly holiday activities.
24 books of Christmas. We love reading together as a family, and over the years we've amassed a wonderful library of Christmas and holiday-themed books. If you'd like to start a 24 books of Advent tradition in your home, here's how.
Holiday fun in Westerville. There are a handful of amazing Christmas-themed events in Westerville, and it's well worth getting out ahead of them to buy tickets. This post is loaded with links for you to do just that!
Fantasy of Lights celebrates 20 years. And speaking of lights… who doesn't love the annual tradition of piling as many friends or cousins in the car as you can fit, then cruising up to Alum Creek campground to take in the Fantasy of Lights!?
Taming the Holiday Chaos. Originally posted on the Easton MomEscape blog, this one is full of great tips to help rein in the craziness of the season so you can fully enjoy it.
Kingdom of Lights and the Copper Mug. Looking for a new holiday adventure? Try hiking up to a magical castle in a woods, enjoying a delicious dinner – and then seeing the castle all lit up for Christmas!
End your year at First Night Columbus. When the holiday season – and the year – have come to a close, spend your New Year's Eve at COSI for the best late-night dance party and kid-friendly celebration we've ever experienced. We'll be there for sure to ring in 2020!
I plan to write about more holiday fun all through November and December, but I figured this list of things we've done in years past was a good start. What other holiday events and activities should we check out and blog about? Let me know in the comments below or over on Facebook!