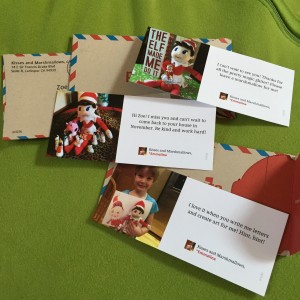 Our family dove head-first into the world of Elf on the Shelf when our daughter was about four. Each year, her bond with Emmalina, her Elf, grows stronger; she's been known to cry real tears when Emmalina departs back to the North pole on Christmas.
We received a special dispensation from Santa right from the start which allows Zoe to hold and hug her Elf. Maybe that's why she and Emmalina have grown so incredibly close? Emmalina has even made special arrangements to stay with us a few days longer so that Zoe has a chance to say a proper goodbye – and she flew all the way down to Florida to visit with us last year when we made an unplanned, last-minute trip to see Zoe's grandparents at Christmas.
Because of their sweet bond, for the last two years, Emmalina has returned to celebrate Zoe's birthday with her, showing up in the morning atop a pile of presents. Both years, Z has grabbed up her Elf in an adoring embrace and practically ignored the stack of gifts!
We even installed a fairy door in Zoe's room so that Emmalina can travel back and forth between the North pole and our house whenever she needs to. Once in a while, Emmalina leaves small notes near the door for Zoe to read. I'm very glad Zoe *can* read because often the Elf notes are so tiny I can barely read them.
That's why I was super glad when Emmalina the Elf found another way to send notes to Zoe: through the mail using the wonderful PixiNotes service! PixiNote creates beautiful "snail mail" notecards anyone can send – and it's all done right from your phone. This is a great way for kids and their Christmas Elves to stay in touch throughout the year – and for Elves to drop a helpful reminder to be on their best behavior as needed!
What are your favorite ways to keep the magic of Christmas alive and well throughout the year – or to help your littles keep up a relationship with your family's Elf on the Shelf? I'd love to hear in the comments below.