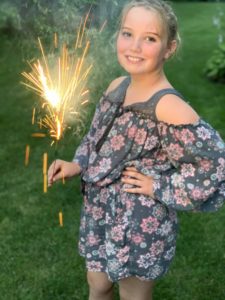 No one prepared me, yet again, for the crazy amount of emotional and psychological development that happens in female kiddos between 8 and 9. There are light years of difference between third and fourth grade. I had no idea.
I'm experiencing this phase of motherhood with an odd mixture of terror and pride. Which really makes it a whole lot like every other phase of motherhood thus far.
When she finished third grade a mere two months ago, I felt like I knew my kiddo fairly well. Sure, she was getting to be a big girl – no longer believing in Santa or other magical creatures, for example – but she was still my little girl too sometimes. She was a wonderful mix of both.
But now, more and more she's this cool, unknowable big girl and I'm just not ready. She gets a terrible attitude at times, acting like her dad and I are this utterly disappointing, stupid and uncool force in her life. She can be pretty ungrateful and entitled at those times. Honestly, I'm not a fan.
I thought we had more time before the "terrible tweens" set in. I had no idea we'd be meeting this prickly young lady so soon. I remember major power struggles with my parents around age 13 – but certainly not this young! I was unprepared.
That said, I can't say it's all bad. She is incredible at this age, too – she really is. She's bright, compassionate, caring and thoughtful. She cooks me eggs, cleans and organizes her room and has adapted to our 19-point summer chores checklist like a champ. She is super fun to hang out with and my absolute favorite buddy to go shopping with! And sometimes, when she's really sleepy, or not feeling good… she turns back into our sweet little girl.
I realize the trick to this parenting thing is that just when we think we have it figured out, our kiddos grow and evolve and therefore we have to grow, too. We constantly have to keep reading parenting blogs and sharing our best tips and tricks with other parents. There's no dress rehearsal for the parenting gig – we're just thrown in front of a live crowd and we have to think fast.
I'm doing my best to not just adapt and cope with these changes in our Z, but also to celebrate my pre-tween's newfound independence and maturity. They still need so, so much guidance and love and support as they begin to form the personalities that will get them through middle and high school. If anything, in many ways, they need time with us now – and especially time spent off screens – more than they ever have.
What tips do you have for connecting with a pre-tween, and have you been taken aback by the big jump between third and fourth grades?! I'd love to hear your stories in the comments below or over on Facebook.