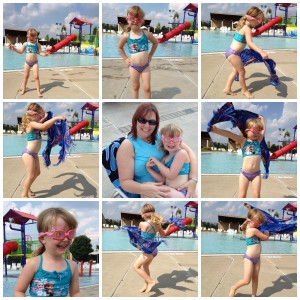 I've come up with some good inventions in my time, like date day (where child goes to school but parents stay home and take a vacation day together), date week (an entire week of date days – also known as a second honeymoon) and now my latest: #pooldayonaschoolday.
Basically, the way this works is that we send Z to school in the morning and act totally normal – but then we head to her daycare super early (ideally during lunch or nap), scoop her up, get her into a swimsuit and spend the rest of the day at the pool! It's ideal for hot summer days when no one really wants to be in school (or work) anyway.
We did this on a recent Tuesday and it was pure bliss. E and I both worked as usual in the morning after taking Zoe to school – but then we met for lunch just the two of us, spent a little bit of quality time together, and then headed to Z's school to surprise her with the good news. Her reaction was priceless! And we all had a fantastic afternoon together at the pool.
I think these pics, of an overjoyed Miss Zoe doing her own little rendition of a traditional Middle Eastern veil dance while we waited for the mandatory top-of-the-hour pool break to be over, speak for themselves. But just in case, there's a happy little video version, too.
What's your favorite way to surprise your kids or celebrate these last precious days of summer? As always, I'd love to hear in the comments below.