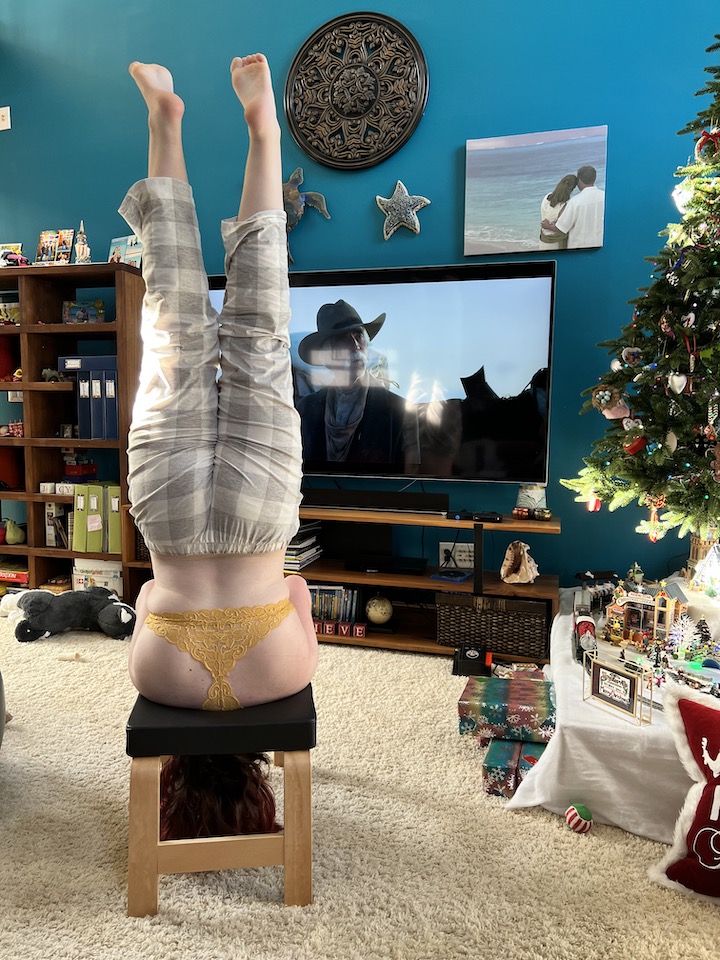 We are big fans of yoga toys in this house.
We're fans of yoga too, but we don't actually practice it.
If you must know, I'm perpetually intimidated by yoga. I've been to yoga classes – even trained with the great Amy Lay of Shadowbox Live fame for a time – but I've never stuck with it.
It's as if I love the idea of yoga but not the reality of it. Every time I do it, I feel like I'm super bad at it – so then I get discouraged and never stay consistent long enough to get good at it.
I literally have friends who are yoga instructors. There are yoga DVDs and a yoga mat collecting dust in my basement.
I love wearing yoga pants – and they don't even have to be fancy, pricey ones. For a time, I even had a "do yoga" alarm on my phone that went off every single day at a certain time.
I aspire to be a regular yoga practitioner someday! I simply have not made that happen in reality yet. It's still a far-off goal or dream. I haven't yet managed to connect the dots.
But you know what I am enjoying the heck out of in the meantime? Yoga toys.
For Christmas 2022, both Z and I got yoga accessories as gifts. I didn't include these in our favorite gifts post, but they definitely are among our favorite and most-used gifts.
First, we got a Yoga Wheel. It came from Amazon and it's a lifesaver. As someone who carries extra weight and also spends too much time sitting at a computer, I do experience upper and lower back pain from time to time. Heck, as I get older, I'd say it's more often than not.
To combat that pain, I had a regular chiropractic habit right up until I started using this wheel, and now I've been able to cut down on the frequency of my appointments. The wheel stretches, massages and "cracks" my back. I feel like a million bucks after rolling around on the floor with this thing. Z and E have tried it, too. This wheel gets two thumbs-up from our whole family!
For the most physically adventurous member of our family – aka Z – we got a Yoga Inversion Bench. She has always loved doing handstands and headstands against a wall; it's a form of "heavy work" that is very calming to her.
Now, she can invert herself anytime and anywhere she likes on her cool yoga bench. This was a big hit of Christmas as she tried it the second E put it together, and many other family members have tried it as well (including my almost 80-year-old Mommers and chubby little me!).
I will say no one is as graceful and fluid on this thing as Z – she's poetry in motion and uses it all the time.
Supposedly, inverting yourself during the day can help relieve stress, strengthen your core and aid sleep and digestion. I definitely agree with the core strength part – plus it's just plain fun. We keep it in our living room and Z goes feet-up anytime there's a TV commercial or she just needs a break from homework.
I prefer to use the inversion bench up against a wall for extra support, but Z can do it in the middle of a room with no problem at all. I guess that's something I can work up to!
So, there you have it – two fun yoga toys that we've been enjoying since the holidays for a little bit of self-care during our winter days.
Who knows, maybe one of these days I'll actually do some yoga, too. Perhaps 2023 is the year I finally stop dreaming about it and actually do it!