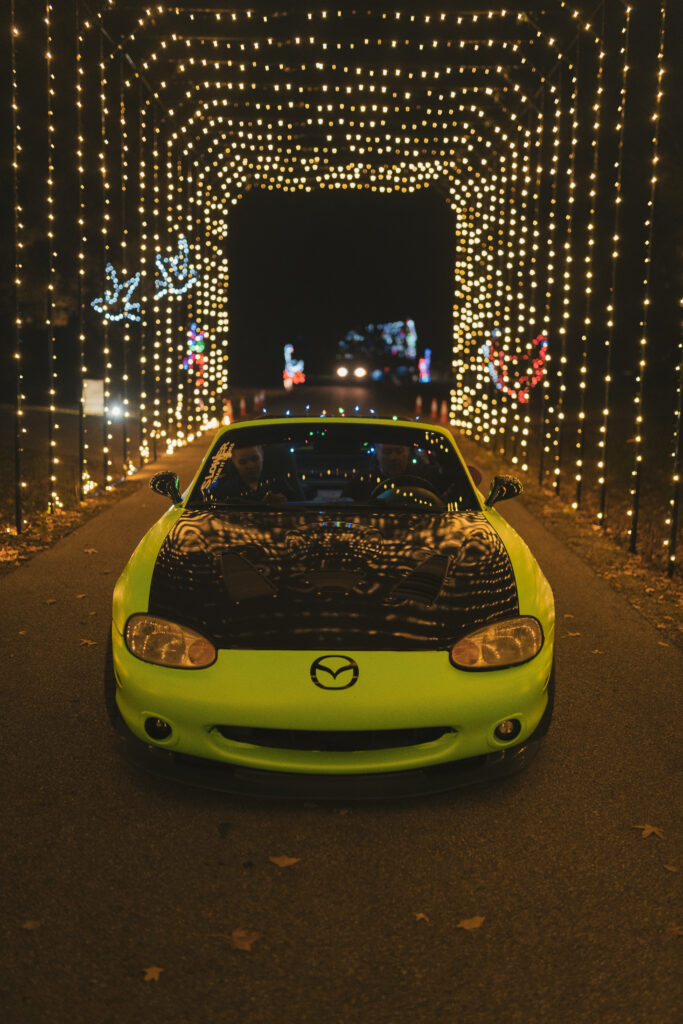 It's December, y'all.
I know, I can't believe it either. And it's nearly 60 degrees in Lewis Center today, which is making it even harder to believe.
But it's true – the Christmas season is truly upon us. And that can only mean one thing: it's time to don your best holiday PJs, hop in the car and cruise through the festive, twinkling wonderland that is Butch Bando's Fantasy of Lights!
The Bando family and the crew at Fantasy of Lights are my besties. As if their amazing holiday light show and ongoing service to our community weren't enough, they also happen to be super fans of this blog!
Every year, they shower us with swag – including tickets to give away to our readers – and invite us to their VIP media preview night. For the past few years, they've even had a photographer follow us through the light show to take pics and video as we go. It's something we look forward to every single year!
This year, when the night of the VIP preview arrived, the fam and I were all getting ready to hop in my car and head up to see the 22nd edition of Fantasy of Lights.
That's when my darling hubby said, "wouldn't it be cool if we cruised through in the Miata?"
You see, through the end of 2020 and most of this year, hubby has been working on his latest project car: a souped up, re-built, gorgeously custom-wrapped Miata. When he bought this little two-seater car last fall, it was an ordinary wine-colored Miata. It was super cute just the way it came. I loved cruising around in it!
But since then, he has completely rebuilt this little baby with an Acura engine, new transmission, roll bar for safety and so much more. It's been a real labor of love for E.
The finishing touch was wrapping the entire exterior of the Miata in a super bright, neon green color that Xage picked out.
I had my doubts about the color at first – and I got to help, so I can tell you that wrapping a car is no joke – but the end result is truly spectacular. We get more compliments on this little Miata than on any of E's other hotrods!
So when hubby suggested that we take the Miata through Fantasy of Lights, I immediately thought it was a great idea. I mean, how cute to cruise through with the top down on a mild night, right? We'll have an unparalleled view of all those sparkly, twinkling lights.
But then I realized… taking the Miata meant that only two of us could go, instead of the whole family.
That's when I made the ultimate sacrifice. Even though I LOVE cruising through Fantasy of Lights like a celebrity with a photographer popping shots of us as we ooh and ahh over the latest light effects and rainbow tunnels, I volunteered to stay home so E and Xage could have a sweet daddy/kiddo moment in the spotlight.
(It doesn't hurt that I also had some episodes of my favorite not-kid-friendly TV show to catch up on. Score one for mom!)
The hubby and kiddo drove up in the Miata with its roll bar wrapped in Christmas lights. They cruised through Fantasy of Lights, gave everyone my best regards, collected the most generous swag bag yet and got lots of great pics taken. The Miata was a huge hit at Fantasy of Lights, as it is everywhere it goes. Apparently, even Mrs. Claus loved it!
And now, if you made it this far, I have good news for you. Leave us a comment below with your family's favorite holiday tradition and you can win a free ticket to Fantasy of Lights! We will pick our winners randomly next week so you'll have plenty of time to cruise through this holiday season.
Butch Bando's Fantasy of Lights is open now through January 2 starting at 5:30 pm and ending at 9 pm on weekdays, 10 pm on Friday and Saturday nights. It's such a special holiday tradition for our family and so many others. Best of all, every visit to the Fantasy of Lights gives back to Recreation Unlimited, A Kid Again, the 3rd and Goal Foundation and Steps for Sarcoma.
Thank you, as always, to the Bando family for your generous sponsorship of this blog and for all you do to give back to our community! I can't wait to drive through your lights again soon. Now that I've got a season pass, I'm going to be cruising through every chance I get!