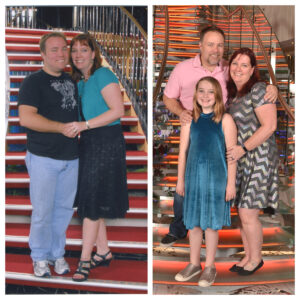 Do you ever just stop and wonder how the heck we got here?
I mean, I remember a time not so long ago when 2020 sounded like the future… and now we're living in it. That's just crazy!
Being in a new decade means I'm personally on the brink of a BIG birthday, because I was born in a year ending in zero.
A lot of people are reflecting back on the past decade right now, but I find myself being especially introspective because the past decade literally was my 40s.
Yes, I said it – your girl is turning 50 in a few months. Five-oh! I can scarcely believe it.
I can honestly say I'm not at all anxious or sad about turning 50, because my 40s have been the best decade of my life. When 2010 rolled in, I was gloriously pregnant, rotund and feeling my absolute best and most alive ever. Within the first three months of that decade, I gave birth to our beautiful Zoebelle – and shortly after that, I turned 40. It's been a wild, beautiful ride ever since!
Here's a look back at some consistent life themes of the last decade – and my 40s – so I can get psyched and gear up for an even more amazing decade in my 50s.
1. Becoming a mom! Of course, my biggest accomplishment of the decade was definitely becoming a mom to our precious Zoebelle. A big part of that was nursing her – which started out so difficult for us, but then became a beautiful, simple and integral part of our lives that lasted for almost four years. I'll also include here our discovery of attachment parenting, which continues to inform our relationship with Z to this day.
I began this blog in 2012 to begin documenting the amazing adventure that is being a new mom in my 40s after years of not even being sure if it would ever happen.
This decade, I also experienced the joy of becoming a host mom as our family welcomed Napa from Thailand from August 2018 through June 2019. Hosting an intercultural exchange student for a year is an amazing experience, and our family and our hearts grew so much from living with and loving Napa! Being mom to a terrific teen for a year was a wonderful adventure, and prepared me well for when Zoe reaches that age. We all can't wait to go to Thailand in 2021 for a family reunion in the Land of Smiles!
2. Struggling at work. Going back to work full-time after my maternity leave with Zoe in 2010 was one of the hardest things I've ever done. I only lasted about a month before asking to drop my hours down to part-time. That move was huge for me, and shows just how much things had changed.
No longer could I give 110% to my career; since the birth of our daughter, I now have two huge, competing jobs. It's been a struggle to find the right path forward to continue my career while also making sure I give my all to Zoebelle at every stage of her development. If I'm completely honest, it hasn't been easy and still isn't. I've left or lost good jobs at great companies because they weren't a good fit or didn't allow me the flexibility that I need.
At the same time, I do love being a working mom – and I feel it is teaching Z great lessons about women as leaders, prioritizing time and more. I continue to work at finding balance. I wish that I didn't so often feel that I'm failing at one or the other – either the job or being an active, engaged mom. Anyone who says being a working mom is easy is not telling the full truth. I continue to work hard at finding the right balance between work and family.
Here's hoping I can satisfactorily solve the working mom puzzle in my 50s!
3. Battling with fitness and weight. Perhaps more than any other, this decade was a constant battle with weight gain. And let's be honest; I lost that battle, and by that I mean that I gained a bunch of weight.
I started out well; got my baby weight off within a year of having Z. But then, a few years later I started gaining weight each year like it was my job – barely recognizing myself by my peak weight in 2019. Thankfully, toward the end of 2019, I took back control over my eating and "broke up with food" by embarking on my Optifast journey through Central Ohio Nutrition Center.
I love food and will always have to work hard to rein in my impulses to over-indulge and "treat" myself. For now though, I'm on a medically supervised diet that is teaching me so much about portion control, how little I need to eat to survive, and how much better I feel when I am not overeating or going carb and sugar crazy!
On the plus side this decade, I made some great strides in fitness. I took on a huge health and fitness challenge when I joined the Rock N Shock Fitness gym in 2016 and I worked out harder there, for a full year, than I ever had in my life. I was so very sad when it closed in October 2017 but started at Orange Theory Fitness and busted my butt there for several months.
This decade, I learned that I have it within me to conquer my sweet cravings and even go without carbs, sweets and cheese (three of my most FAVORITE things!) for 30 days at a time or more. Thanks, Whole 30.
I got back to my love of running in 2016 too, thanks to my neighbor-friend, and made a couple of new, lifelong friends (my #SunriseRunCrew) in the process. I also did yoga for a while in 2017 with a total Columbus rock star, Amy Lay from Shadowbox Live.
4. Traveling with my loves. E, Z and I have shared some incredible travel adventures throughout this decade, including Maui twice, the Turks & Caicos, Mexico twice, London, York and Paris, and so many more amazing places. Travel bonds us together as a family and expands our world. It helps us stay close with our broader families, even though we're miles apart – and it teaches us so much about the beautiful world around us and especially about nature.
This decade taught us that we're a family who loves the beach and getting out in nature more than Disney. We also made four trips to NYC with our nephews and nieces when they each turned 16 – and one more with Napa to celebrate her time with us. We hiked in Joshua Tree national park, snorkeled in crystal clear seas and explored great cities around the world. 2010 through 2020 has been an amazing period of travel in our lives!
So, that's it for four big themes in my life over the past decade. If there's one area that I could go back and focus more time and energy on, it's making my marriage more of a priority since becoming parents. One of our concerns before ever getting pregnant was that we could lose touch with "us" once we became a family of three – and sure enough, alas it has happened. It's hard not to lose focus when a little whirling dervish enters your lives!
So, one goal I have for this next decade is to find our spark again as a couple – to do more things just the two of us (maybe even take our first trip together as a couple!) and do more romantic overnights like we did in 2019 for the first time in years. This will be a really fun thing to focus on in our 50s!
What about you – any key learnings or celebrations from the past decade as you look back on your life? I'd love to hear your stories in the comments below or over on Facebook!