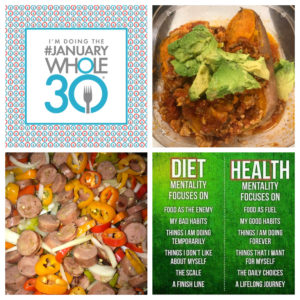 This January 1, along with many others, hubby and I embarked on a round of eating only clean, wholesome foods – a 30-day eating program known affectionately as the "Whole 30."
We're not new to this game, having done two successful rounds of Whole 30 in 2018. But this time feels different to me for some reason – I don't feel as tentative or anxious about it. I know what I can eat (basically just natural, whole foods straight from nature – like veggies, fruits or meats), I have some familiar meals I can make from memory and I know what works for us. Which means I'm better able to handle it when challenges arise.
A day like today, if it had happened to me last year, might have thrown me off course and ended my Whole 30.
This morning I made and packed a delicious, wholesome and program-compliant breakfast and lunch for myself… and then promptly left it on the kitchen counter when I headed out for work. Doh!
The old me would have said "oh well, I guess I'm eating out for lunch" and likely would have gone way overboard with tacos, pizza or something else non-compliant. I might have said to myself "better luck next time" and shot my program down with one day of pity-eating. I might have even done worse than that – started down a path of overeating and just said the heck with my program. Trust me, I've done that with many, many diet and healthy eating attempts over the years!
But Whole 30 teaches a different approach to food and a different mindset around eating. Although it is only a 30-day program, the goal is to teach yourself a permanent, new way of thinking about food and nutrition – known as "food freedom." Although that 30 days (especially the first round or two, before it becomes a habit) requires much dedication and commitment, it's not about denying yourself and it's not about playing games. Because there's an end in sight – only 30 days or less – it's so much easier to stay strong and be compliant with your eating. A commonly used phrase in the Whole 30 community is "you can do anything for 30 days!"
The magic trick, if there is one, is that when you do stay strong and compliant for 30 days straight, it makes you WANT to do it longer and it makes it EASIER to do it longer. Showing restraint and self control in any area of your life builds your "willpower muscles" which makes it a lot easier to continue making the right, healthier choices. Even though I'm only 8 days into this round – another thing that would have made it easy to give up before, and in fact in July of last year we gave up a perfectly good round of Whole 30 only 14 days in for similar reasons – there's no way I'm giving up despite my challenge today of forgetting my prepared foods at home.
So what did I do? I had almonds in my desk, so I ate a big handful and called it breakfast. I have two clementines on my shelf and those will be a mid-morning snack. And thankfully, Chipotle now has a Whole 30 compliant salad bowl so I'll be taking a walk and giving that a try at lunch! Problem solved. And the best news of all? That breakfast and lunch I packed this morning got put back in the fridge by our babysitter and will be a delicious dinner for me tonight, already made.
I just can't stress enough HOW different this is from me in the past, including just last year. Whole 30 has literally changed me and my relationship with food. I'm not trying to get away with something anymore – I've finally stopped running game on myself when it comes to what I put in my body. I've seen the results from past Whole 30 rounds and I know how great it feels to be successful. I also know how AMAZING I feel physically, mentally and emotionally when I've been eating clean for several weeks straight. And all of that adds up to a new me who is all about feeding my body with healthy, whole foods – not finding reasons to cheat or excuses to go off program. I have finally found food freedom.
I'm not perfect, and I never will be. I love food way too much – especially non-compliant foods like breads, pasta, rice, pizza and, above all, sweets. And I do enjoy those things when I am in between Whole 30 rounds – you should have seen me mowing down chocolate over Christmas break! But that's no longer my default mode. In fact, my commitment to myself for 2019 is to do at least six rounds of Whole 30 and spend no more than six months off-round… and to stay more in control with my eating even in between rounds. I am truly excited to see how this new program will change and mold me further in the months leading up to my big 49th birthday in May!
Have you ever tried Whole 30 or another clean eating program? How did it make you feel, and do you have any tips for a relative newbie like me? I'd love to hear your thoughts in the comments below or over on Facebook!