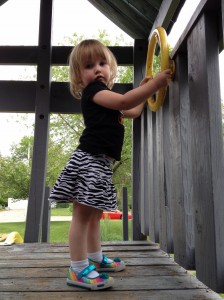 I love being a working mama. There, I said it.
I think too often we think and talk about how hard it is to be a working mom. We agonize over hours spent working for a living instead of playing with our kids. We torture ourselves over finding the perfect balance between work and home life.
But do we ever actually talk about the good parts of being a working mom? I'm not talking about having more income, although that's nice too, especially when it comes to being able to travel together and give kids a broad world view and fantastic life experiences.
I love being a strong, positive role model for Zoe. I like knowing she will grow up expecting to go to college and succeed and get a good job and have a fulfilling career. She'll grow up valuing those things, because she sees them in me. That feels really good.
How do I know this? Because already, at age two, Zoe pretends she's going to work. A major part of her make-believe life — which also happens to include pretending to be a tiny baby, meowing kitty or roaring dinosaur — is pretending to be a mommy going off to work.
As I recently shared with a colleague, Zoe often puts a purse over her shoulder, gaily waves at me saying "Going to work now Mommy. Love you! See you later!" and then heads out the door of whatever room we're in. Usually when she does this, she's only wearing big girl panties and a feather boa.
We'll work on that last part. But still, I'm proud of her for modeling this behavior – and I adore it when she pretends to come back home a few moments later. She rushes to me with a happy, beaming smile and says "I'm home! I missed you! I love you so much!" I know she sees me do that every day. That feels really, really good.
What about you – do you love being a working mom, too? What are some of the other great things about it?