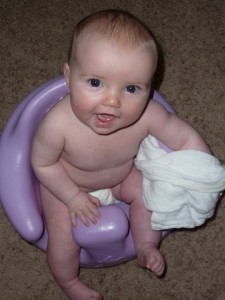 My working mom guilt started even before I had Zoe.
I was still pregnant when I began agonizing over how hard it would be to separate myself from the little life growing inside of me – to not just be in two different bodies after all this time together as one, but two different bodies in two different buildings with potentially miles between us.
When I toured daycare centers early in my pregnancy, I  burst into tears while visiting each infant nursery (so embarrassing). Some of the babies I saw were crying, some were happy and content – but I felt ALL of them would rather be home in their mother's arms.
Oh, that working mom guilt. How it cut right through me.
I wondered, how on earth can I bear to part with my precious baby, let alone leave her with strangers who are just being paid to do a job?
My mom helped me a lot during this time. She calmed me down, reassured me, and told me stories from her vast experience as an early childhood educator and administrator (she spent her entire professional career as a teacher, then director of two different, highly acclaimed preschools and nursery schools, then worked in a daycare center after she retired, before she had grandchildren).
One story in particular stuck with me and I held onto it all during my pregnancy and the tough weeks, months and now years that followed:
My mom told me that she once knew a woman who was a high-powered business executive. This new mom came to the center every day at lunch, like clockwork, dressed in a business suit. There, she sat in a corner, unbuttoned her suit jacket, untucked her blouse and nursed her baby. Every day. Day after day. My mom said it really made an impression on her and the others at the school. They'd never had a mom do that before. I imagined how good that baby would feel when she grew up, knowing her important, busy career mom did that for her! I vowed to be that mom. That story is actually one of the pivotal factors that set me on the path of breastfeeding superstardom.
I have to admit, before I heard that story, it never even occurred to me that I'd be able to go nurse my baby at lunch.
I had been planning to choose a daycare midway between my husband's office and my own, but after hearing this story and vowing to be that working, nursing mom, I selected the best daycare I could find that was close to my office. I also alerted the daycare that I would be coming every day at lunch to nurse her, and they said it was fine and that other moms had done it (I later found out it was pretty rare, and certainly none came as often as I did or as long as I did. I really did become "that mom" I had emulated).
Nursing Zoebelle at lunch was such a joy – it meant we were never apart longer than four hours. It meant that I got to fill her up with love and mama's milk, while at the same time easing my own aching, working mom guilt-filled heart.
I was able to educate our daycare center about the finer points of bottle-feeding a breastfed infant, hopefully helping other moms and babies along the way. It all made those early days, weeks and months back at the office SO much more bearable.
The other way that nursing helps alleviate working mom guilt is that you're not sending your baby off alone to daycare – you are sending a part of you with her. You're sending precious bottles of liquid love, white gold, mama's milk.
I would smile each time I looked at the clock at my desk, knowing Zoe was probably getting a bottle right about now. I would envision her little face growing pink with contentment and then her drowsily, drunkenly passing out immediately afterward.
Sure, expressed milk from a bottle isn't as great as fresh and warm, right from the tap – but still, knowing she had me with her all day like that was a nice measure of comfort for this working mom's heart.
Breastfeeding guilt? Never had it. But working mom guilt, I had in spades – and nursing was definitely the best thing I ever did to combat it. Another thing that really helped was reading the book Hirkani's Daughters, a book about "scaling modern mountains" to combine breastfeeding and working. It's a fascinating, empowering and inspiring read – I highly recommend it.
How's your level of working mom guilt – low, high or in between? What are some ways you deal with it? If you're a nursing mom, do you think that has helped keep the guilt monster at bay?
This post was part of the Breastfeeding Blog Hop hosted by The Slacker Mom and co-hosted by Happiness Redefined and The Gnome's Mom. This week's topic is Guilt. Click through to see more posts or even better, link up and join the blog hop!