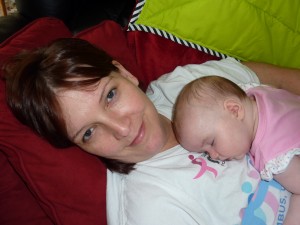 Sometimes, being a working mom is so very hard.
This morning when I dropped Zoe off for daycare, she cried. Not the big, loud, dramatic wails that say "I'm not getting my way right now and I don' t like it," but the truly heartbroken, silent tears of a little girl who simply did NOT want mommy to leave.
It just about killed me walking out that door and leaving her. I know she's fine. I am thankful we have a great daycare. But oh, days like this are hard.
To make matters worse, tonight I have to work late so I won't be the parent picking her up. She expects me there every day – she looks for me every afternoon. She adores her daddy, but when he picks her up it's a break in the routine and she won't be happy. She'll want me, and she'll want to nurse, and she'll be sad again. She'll probably cry, which will result in poor E feeling lousy and inadequate, too.
Oh, it's hard juggling work and motherhood. It's the hardest thing ever. But you know what saves me on days like this? Cosleeping. I know that even though Zoe was sad this morning, and even though she may be sad again this evening at pick-up time, she'll go to bed and drift off to sleep with her little cuddly body pressed up against me. If she wakes in the night, it will be with mommy and daddy on either side of her, just a touch away. And when she wakes in the morning, it will be with a smile. We all wake up smiling most days – it's hard not to with giggling, wriggling, happy Zoe in the bed with us.
Cosleeping doesn't make the rough daycare drop-offs any easier, and it doesn't make late nights at the office any less hard to bear. I want to be with Zoe during those times, too. But since I can't – since I am a working mama with other commitments and obligations – I am glad we have our nights together, and so happy to be afforded opportunities to nighttime parent in ways that are so easy and yet mean so much. I really do thank heaven that we stumbled into cosleeping and found it works so wonderfully well for our family.
I can't wait until bedtime.
How about you – what part of the day do you look forward to most with your little ones? I'd love to hear in the comments below.