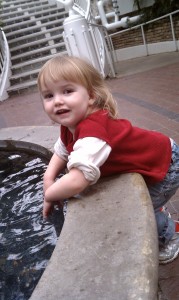 There was a time not too many years ago when it could be said I was living la vida loca, but no longer. Now, if I had to sum up my days I'd say I'm living a hybrid life.
I feel really lucky to be able to be a working mom with a great career and job I love, yet also have the luxury of an extra day each week to spend with Zoe. On Wednesdays, for all intents and purposes, I'm a stay at home mom. We take mommy and me classes, we go to the park and library story time, and we hang out with other SAHMs and their little ones.
As I've said many times in the last two years, Wednesday is the best day of the week. Sometimes though, I have to give back a little bit on Wednesdays. Since my job has been so flexible about letting me drop down to four days, I try to be uber flexible in return during those times when a meeting comes up that necessitates me working on a Wednesday. That happened this week, and it created quite a hectic hybrid of a day. Curious as to what it looked like? Here it is, in all its exhausting glory.
12:01 am – I knew I had a critical new business meeting at 1 pm the next day, so I'd be making a cameo at work on my day off. I also knew Zoe had her beloved gymnastics class at 9:45 am and I didn't want her to miss it. Sometime just after midnight, when I was finishing up some work on my laptop, I made the decision that I would stay home with Zoe in the morning, take her to gymnastics and then drop her at daycare on my way to the office. This would give me a couple of hours in the office to prep with the team before the big meeting. It was a tough call and lying in bed later I wavered quite a bit, worrying that I should just take Zoe to daycare for the whole day and head to my office in the morning. Ultimately though, I finally drifted off to sleep feeling I'd made the right decision. My time with Zoe is sacred and I didn't want her to miss out on her favorite class.
6 am – I hopped out of bed, showered and quickly got dressed in my SAHM attire: yoga pants, flats, tshirt and scarf. I also packed a bag to take with me containing my sharpest business suit, heels and accessories. I looked over my notes for my big meeting, did my make-up and hair for the day, and focused on visualizing success.
7:30 am – Zoe woke up and we nursed, then I got her diaper changed, hair and teeth brushed, presented her with a couple of outfits for her approval (it usually takes one or two tries), got her dressed and we headed downstairs for breakfast together.
9 am – After a leisurely breakfast and some playtime, Zoe and I got in the car to head to the Westerville Community Center for some time at the indoor play park, then her gymnastics class. I packed up my laptop, the bag with my work clothes, Zoe's lunch and bag for school, and the all-important diaper bag with snacks. We had fun at the rec center's play area and then had an absolute blast at gymnastics. We were back at the car right on schedule by 10:40 am and Zoe hopped right into her carseat, content to munch on pretzels from Miss Sonne, her gymnastics coach. We headed for daycare.
10:40 am – While driving, I checked my voicemail (I know, I know, the Cali folks are freaking out right now – but cell phones are still legal for Ohio drivers). That's when I learned that my meeting had been moved up from 1 pm to NOON. Looking down at my yoga pants, I realized I would need to make the quickest change ever known to womankind once I got Zoe safely and happily transitioned into her daycare classroom! We arrived, parked and zipped in to the building. Her class was outside so we whisked out to the playground and Zoe happily ran for her friends and teachers, never even looking back at me. I raced for the ladies room and made like Superman in a phone booth. SAHM attire off, business attire on! I headed for work at the maximum legal speed and tried to keep calm.
11:15 am – I sprinted into work and met my colleagues, who had graciously already gathered up the presentation boards we'd need for our meeting. We had planned to spend the next hour rehearsing, but instead we chatted briefly for about ten minutes, then headed back out to my car in time to leave at 11:30 am. We headed over to our big, important meeting. I was still having a hard time shaking off the realization that not much more than an hour ago, I was rolling around on a mat with Zoe and the other moms and toddlers! But I got my head in the game somehow.
12 noon – We met up with our C-level colleagues and had our meeting. It went super well! I felt on top of the world – like my team and I could conquer anything. Pretty soon afterward, I also felt equal parts nauseous and wiped out. Total adrenaline crash after all that excitement and anticipation.
1:30 pm – I dropped my colleagues at the office, grabbed a quick lunch to go and headed back to my desk. I spent the rest of the afternoon working on projects or in meetings… but I still felt like I should be home with Zoe. Working on a Wednesday is never easy.
4 pm – Headed out early to try and recoup some lost Zoe and Mommy time. We nursed in the car as we always do upon reuniting (I'm pretty sure I'm known by my fellow daycare parents as "that crazy lady who is constantly breastfeeding in the backseat of her car." We talked about Zoe's day, headed home and went outside to play. I felt mostly normal again by about 6 pm when E got home and we started on dinner.
6 – 7 pm – The dinner hour, also known as the most stressful hour in a toddler parent's life. Seriously, it's not easy getting Zoe to eat anything healthy, nutritious or complete in any way. She'd much rather snack on cheese, toast or crackers these days!
7 – 8 pm – The pre bedtime hour, a fun time but also somewhat anxiety-ridden because I'm usually dreading the bedtime ordeal to come. She does NOT go down easy, this one. Somewhere in here there's a bath, lots of potty attempts, some toothbrushing and several chase scenes as we run after her little naked body trying in vain to get a diaper on her.
8 pm – The official start of bedtime, although it generally takes at least an hour to get her actually settled down and sleeping or close to it. The lure of reading books gets her into bed but we rarely get the lights out before 8:30 pm or even a little later. We usually get requests for water, cheese and/or different toys and stuffed animals than the menagerie she currently has in the bed. Sometimes we give in, sometimes we hold firm – depends on the night!
9 – 10 pm – Somewhere in this hour, I usually get back up and either blog or open up my work laptop to finish a few things. I stay up until 11 pm or midnight, unless I collapse sooner from sheer exhaustion. Crawling back into bed with Zoe is definitely one of the highlights of my day. Asleep, she's peaceful, snuggly, non-combative and sweet. She spends much of the night plastered to my back or latched onto my front like a little human leech, and I can't say I mind one bit. All three of us sleep wonderfully well together – well, all four of us if you count Autumn the Goldendoodle puppy, who recently got promoted to sleeping in the bedroom with us since she's proven she's mastered housetraining once and for all.
And there you have it! A day in the hybrid life. It's not always that conflicted and hectic, but it's definitely always that full. I'm honestly not complaining. It's a great life – but is it any wonder the days, weeks and months fly by?
What do you think – do you live a hybrid life too? Does it ever get easier to compartmentalize or feel like you're giving enough time to both work and home or family? I'd love to hear your thoughts in the comments.