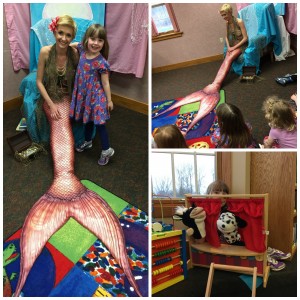 Long-time friends and readers know that my daughter Zoe and I are both fairly obsessed with mermaids. In fact, at last check, Zoe still says she's going to *be* a mermaid herself when she grows up. I do nothing to dissuade her from this notion.
We're planning a visit soon to the legendary Weeki Wachee mermaids in Florida after Zoe fell in love with mermaid Taylor during the Weeki Wachi mermaids' visit to Newport Aquarium last fall. (Side note: this was such a successful event for the aquarium that the mermaids will return to Newport this year in October! Mark your calendars now for this wonderful experience.)
That visit aside, we live in land-locked Ohio and it can be tough to get a dose of mermaid magic close to home.
Imagine my surprise last week when a friend messaged me on Facebook to share that the Delaware County District Library branch in little Ostrander, Ohio would be hosting a special visit from Mermaid Katey! I had never heard of Mermaid Katey, but I knew that if I was going to undertake the Herculean effort of trekking up to Ostrander on a weeknight after a long day of work for me/school for Zoe, I had to check her out first. I learned that we do in fact have a real, live mermaid living right here in Columbus – and that she makes special appearances like the one being hosted by the library!
So, with minimal hesitation I raced home from work Tuesday evening, scooped up my daughter from daycare, hustled through the Chick-fil-A drive-through and continued on along some lovely (if rainy) country roads until we found tiny, adorable Ostrander library. The smallest library branch in the Delaware County District, they sure put on one heck of a wonderful family program. Zoe not only got to meet and talk with and hug Mermaid Katey, she also got to make several mermaid and ocean-themed crafts, partake in a DIY snack station with pretzel rods dipped in white chocolate and decorated with sprinkles, and then spend some time playing in the small but very well-appointed children's area.
While many people (possibly including my beloved husband) would scoff at my rushed 45-mile round-trip journey that night, I can tell you that to Zoe and I, it was priceless. Who would expect to find a real, live mermaid at a tiny little library tucked away in a small country town in rural Ohio? The entire evening was pure mermaid magic – and we have the photos, a gorgeous mermaid-worthy necklace, a fantastically decorated paper bowl jellyfish and many warm memories to prove it.
When was the last time you drove out of your way – possibly even out of your comfort zone – for a magical experience? I want to hear all about it in the comments below or over on Facebook, where the Lara-Mom conversations continue daily even when I am too harried to blog here. I can't wait to hear from you!