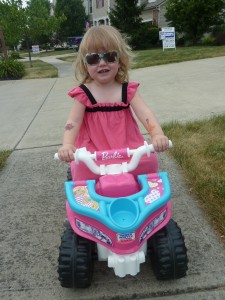 Blast from the past! This post was originally published on June 2, 2012.
I once read that "Mama" is the same in many languages around the world, and that it's usually one of the first words uttered by babies.
Z's first word for me was "Mama" – spoken at first in many multiples, as in "Mamamamamamamama!" It was not her first word, though – that was "Dada." And oh, the smiles she gave him early on… and the laughter.
I knew my baby was growing up when her name for me changed.
I don't remember the first time Z called me "Mommy" instead of "Mama" but I know it was fairly recent – like sometime between 18 months and two years. That change in monikers seems significant to me.
Lately, I hear "hey Mommy!" as often as anything else. And if I don't answer right away it soon becomes "Mommy. Mommy! Hey Mommy! Ma!" – you get the picture.
But there are times when my sweet baby is sleepy, or hurt, or sad, or even talking in her sleep… and when she calls out for me at those times, I always hear that sweet familiar "Mama!" Sometimes I'm lying right beside her in our bed, other times I'm watching her angelic face in the baby monitor as I slog away on my computer in the other room. One thing is certain: nothing can get me up and running to her faster than a sleepy, scared-sounding "Mama!"
It doesn't matter which "M word" Z uses to refer to me. It means the world to me either way.
For a long time, I wasn't sure if I would ever hear those words (aside from my little green Quaker parrot, Abbey, whom I had for ten years and who greeted me constantly with "Hi Mommy!").
When I used to think that I might never be called the "M word" by a real live human child of my own, I'd feel quite sad. It truly is the best sound in the world, hearing "Mama" or "Mommy" from the mouth of your littlest love. I adore hearing it and will never tire of it.
What does your little one call you, and do you love it too? Did you choose the name you'd be called, or did your little one name you? I'd love to hear in the comments.