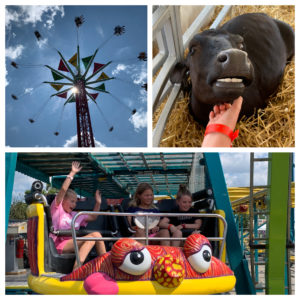 Our family makes it a point every summer to visit the Ohio State Fair. I know the fair has its detractors – it can be hot, stinky and may attract a somewhat unusual crowd at times – but we absolutely love it.
Here are all the things we enjoy about the Ohio State Fair, along with some tips for those taking kiddos for the first time.
Have a plan. Especially with kids in tow, it's important to go in with a general sense of what you want to do and see. The fair is so vast, and there's so much to do, that otherwise it can be a little overwhelming. For example: do you want to do rides or no rides? Do you want to stick to only free things like the petting zoo and farm animals on exhibit – or do you want to splurge for pricier add-ons like the camel and pony rides? It's good to know these things before you go in order to set kiddos up for a fun time and minimize whining! Be sure to double up on the sunscreen because you'll be out in the sun for most of the day. Bonus pro tip: get discount tickets beforehand at Kroger to save a few bucks per person.
Visit the animals. The critters are a HUGE part of why we love the fair. We love them all – from the annual exotic petting zoo (located in Kiddieland under a big circus tent), to the wonderful farm animals on exhibit in all the big barn buildings. Pay special attention to the OVMA Veterinary Medical Education tent where pregnant mama cows, sheep and goats are laboring and having babies – we always love to praise the mamas and coo over the newborns! Z got to milk a cow at that tent this year, too. Plus, there's almost always a litter of new piglets in the gift shop inside the nearby pig building, too – those little darlings are well worth a visit.
Research the featured attractions. This kind of goes along with my first point about making a plan – but basically, each year the fair features different traveling attractions and entertainers. In years past, we've seen wonderful interactive sea lion exhibits, monkey and ape shows, aerialists and lots more. Take a look at the website, see which daily attractions strike your fancy and then work your visit around those times to be sure you get to see and do everything that you want to.
Enjoy the rides. What would a visit to the fair be like without going on rides – or at least the SkyGlider, for relaxing birds-eye views of the entire fair. Yes, of course we all know about the terrible tragedy that happened a few years back – but that actually makes me trust our fair's rides more than ever. No one is more focused on ride safety than an entity that has experienced the worst. Z and her cousins rode all the rides this year, big and small, and felt safe and loved them all. And if you do plan to go big on the rides, the $25 ride all day wristband is definitely the way to go – it pays off after about 4-5 rides.
See a concert. Z and I went to the KidzBop show at the Ohio State Fair for several years in a row and loved it. It's such a great and fun first concert for littles because they are allowed to run up to the front near the stage and dance, catch beach balls thrown out into the audience and just basically create a giant kiddie rave. I don't know who had more fun at those concerts – Z or me! I will say it can get pretty loud up near the front so bring ear protection for the littlest ones.
Get out in nature. Every year when we go to the fair, I always say "this is the year we do some fishing and kayaking in the Natural Resources Park!" But so far it still hasn't happened. We typically get seduced by the sights, sounds and smells of the midway and then nature is the last thing on our mind. Mark my words, though – one of these days, we're going to do the nature stuff at the fair. They even have wildlife encounters – I can't believe we haven't made it over there yet!
Grab a unique treat on the way out. Have I saved the best for last? Ahh, fried fair food. Each year, we choose a special sweet treat to share as we head out of the fair on the long walk back toward the car. Often a funnel cake, sometimes a fried Buckeye or other delicacy; there are so many bizarre options that it can be a fun game to see who can find the oddest fried fair food. This year, fried bubble gum won for us (though none of us dared to try it). And if you're looking for a delicious meal at the fair, visit the farm-to-table providers outside each of the big animal barns for the freshest meats and dairy you've ever tasted.
What have I missed – do you have other favorite things to do, see and eat at the Ohio State Fair? We've got a whole year to plan our visit for next summer, so I look forward to hearing your ideas in the comments below or over on Facebook!