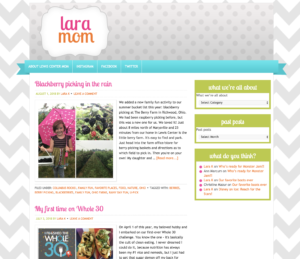 If you're a longtime reader or you have sharp eyes, you may have noticed that I've given the blog a bit of an overhaul.
It was overdue. I started blogging as Lara-mom in 2012, and six years is forever in Internet land! It was time for some changes around here.
Formally known as Lara-mom, we're now going boldly forward as Lewis Center Mom – and the blog has an all new look and feel to match!
I loved the visual branding of my old Lara-mom blog, but I was never crazy about the name. At the time, I was still pretty wrapped up in amazement over the fact that I was really and truly a mom – so the blog started out being about me re-discovering myself as a mom. Over time, I realized the blog really wasn't about me – it was more about motherhood as a universal experience.
Specifically, I tend to blog about momming in the northern community of Columbus, Ohio known as Lewis Center. It's crazy to me that there are no other mom blogs specifically based in or around Lewis Center, despite the fact that this little sliver of southern Delaware County/ northern Columbus is pretty much mom central!
And there's a lot to blog about here in the LC, including several family fun spots we've already covered:
I truly enjoy blogging about family travel the most – so even if you're not from Lewis Center or Columbus, you should find something here to enjoy. Family travel to Europe or Beaches Turks & Caicos, anyone?
So here I go, off on my latest blogging adventure. Won't you come along? And please let me know if there are places we should visit and write about here in the LC, elsewhere in Columbus or even across Ohio and the neighboring states! We are all about fun family road-trips.