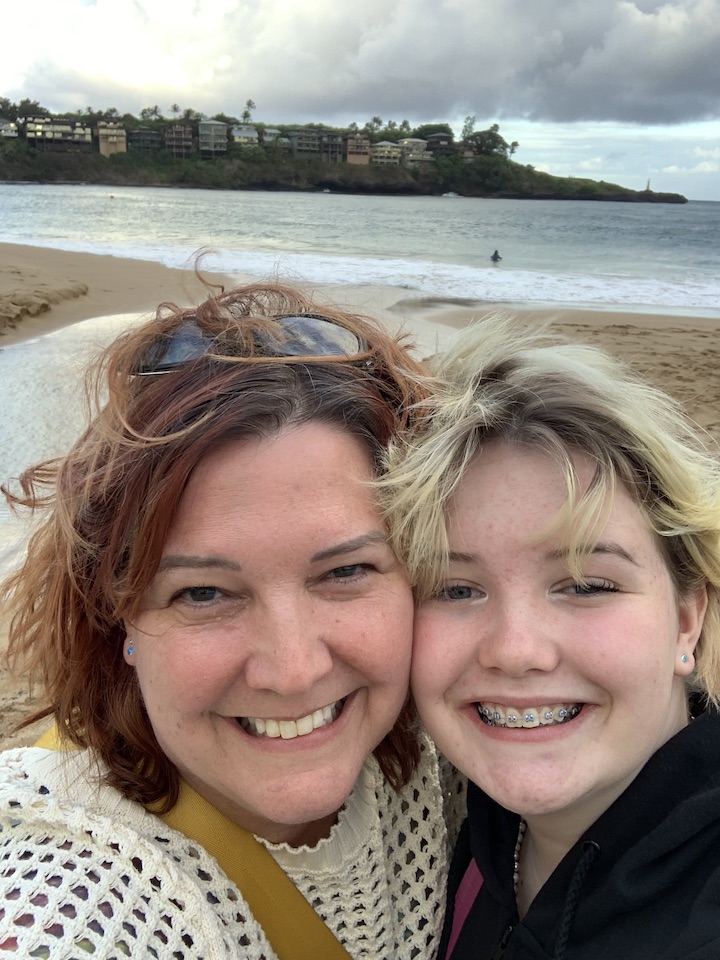 There's not much that I love more than a good beach.
I grew up on a beach, literally. My childhood home was right on the water in Northport, Long Island; our front yard was Asharoken beach.
My brother and I spent our summers swimming, wading and playing with the minnows and crabs who lived just outside our door.
Growing up, my family prioritized budget travel to exotic places. We got to visit beaches all over the world by staying in cramped quarters on sailboats! I was fortunate enough to visit beaches in the Bahamas, Greece and many Caribbean islands before I even finished grade school.
In further travels as an adult, you can add the South Pacific, Hawaii and Mexico to the list of amazing beaches I've visited – topped off by my favorite of all, Grace Bay beach in the Turks and Caicos, where hubby and I tied the knot.
Kauai has some of the most unforgettably beautiful beaches in the world: more than 25 of them, in fact. We visited many beaches during our amazing stay in Kauai, and these are our absolute favorites.
6. Kalapaki Beach, Lihue – This is the public beach near the Marriott's Kauai Beach Club. There is free public parking in a lot just next to the Marriott as well as a free public lot near Duke's. This beach has a calm, protected area for swimming and snorkeling on one side; on the other side, closer to Duke's, there are waves breaking for surfers. Kalapaki beach is dog-friendly (this is where we took our wonderful field trip buddy from Kauai Humane Society) and there are even some shady spots along the grassy lawn. Anytime you can be on a pretty beach enjoying beautiful mountain views, you know you've done something right!
5. Glass Beach, Eleele – Tucked away in an industrial area in Kauai, there is a beach with more sea glass than we've seen anywhere else in the world. If you love treasure hunting for sea glass, then Glass Beach is a must-see. This is basically an unswimmable beach because of the fierce waves, but that's also why there's so much great sea glass; the ocean is unforgiving and ferocious, turning even sharp shards to soft, rounded edges. There is so much sea glass on this beach that at times it seems the very sand itself is made of tiny pebbles of soft-edged glass. We ended up visiting this beach five times because Z enjoyed the treasure hunt so much! Your finds will vary based on the tides and time of day, so if you visit once and don't find much, be sure to go back a second time earlier in the day.
4. Lumahai Beach, Hanalei – This gorgeous beach is another no-swimming beach due to dangerous open ocean conditions, including deadly currents. Don't be put off by "no tourists" signs – they're just trying to save your life by keeping you out of the water. That said, Lumahai beach is so spectacular that you have to visit, if only to take a scenic walk and score some killer photos. Then, walk inland a bit and swim at Lumahai river instead. There, older kids will delight in swimming to a Neverland/lost boys style island where they can climb up and enjoy rope swings and climbing trees to jump into the river. There's even a bridge over the river that many locals and tourists of all ages enjoy jumping from; that said, bridge-jumping is not legal anywhere on Kauai, so use your own judgement.
3. Poipu Beach, Poipu – We had a wonderful morning of swimming and snorkeling here, followed by a great lunch right on the beach at the Marriott's Honu bar. There is a natural sandspit that extends out into the bay and snorkeling was best right around there. There were light waves on the day we visited so it wasn't ideal for snorkeling, but it was great for lazing around in the waves and enjoying beautiful Kauai views from the water. After getting out of the ocean, we sat down for lunch still sandy and salty – except for Z, who had the bright idea to quickly go rinse off in the Marriott pool before anyone noticed she wasn't wearing their wrist band!
2. Salt Pond Beach, Hanapepe – This dazzlingly gorgeous beach is perfect for snorkeling, swimming or just lounging in the shade of a palm tree, enjoying the views. We found a few shells and some sea glass here, but mostly Z just enjoyed playing in the waves. It's considered a protected beach, but on the day we visited there were still some swells. There are lifeguards here so it's definitely safe to swim, and it was never crowded when we visited so it's a bit of an overlooked gem. Tide pools on the east side of the beach may be fun for seeing marine life at lower tides. While you're in the area, be sure to visit the historic little town of Hanapepe, best known as Lilo's hometown in Lilo & Stitch.
1. Haena Beach/Tunnels Beach, Hanalei – When I imagine heaven, this beach is pretty much the visual that comes to mind. White sand beaches, gorgeous turquoise waters, lava formations to snorkel over and through, and then there's Bali Hai. Above and behind this beach, the incredible Mt. Makana towers over you, adding an air of mystery and intrigue. If that lush green peak looks familiar, that's because it is Bali Hai from the 1958 film version of South Pacific, and is still known affectionalely by that nickname today.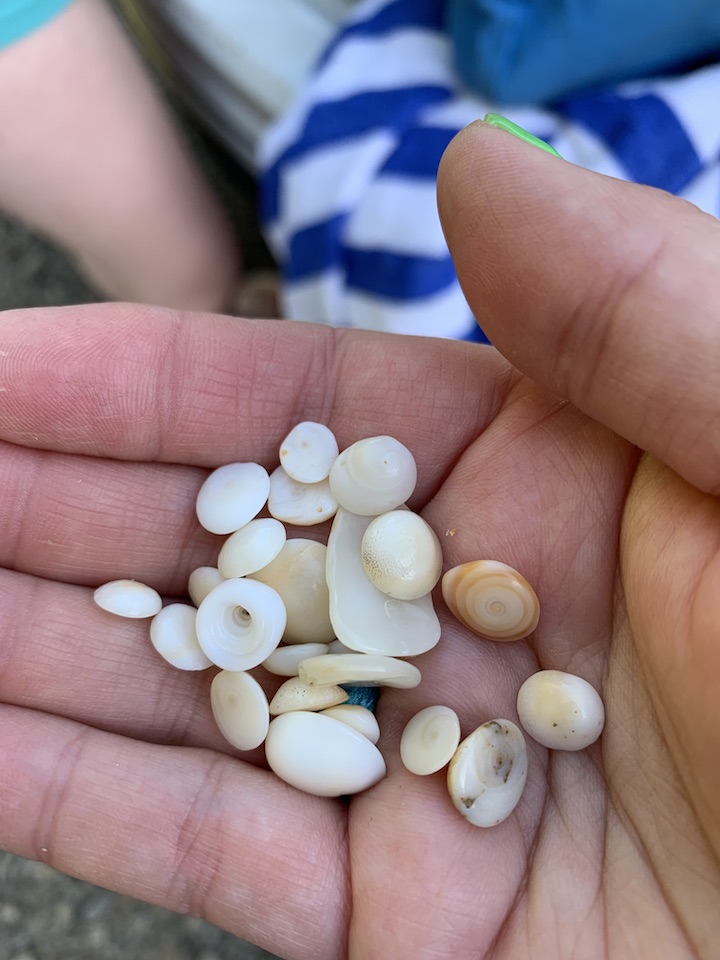 This is perhaps the most desirable beach on Kauai and therefore it is almost impossible to get a spot in the small parking lot at Haena Beach (there's an even smaller lot, and tinier chance of getting a spot, at Tunnels). Your best bet is to aim to get to Haena by 7 am or very soon after; by 8 am, the lot is full and once here, people have a tendency to stay a while.
Tunnels, named for the incredible lava and reef formations just off shore, is a short walk to the right from Haena beach lot. Here we enjoyed our best snorkeling on all of Kauai – and also the best shelling. Unique to Haena and Tunnels beaches are the tiny, famous "puka" shells. If you've ever worn a puka shell necklace, the shells very likely came from this beach. Finding them is so much fun – they look like little half pearls and can be spotted everywhere here, both in the sand and while snorkeling.
We did so many other things on Kauai – beaches were only part of our fun adventures – but my memories of these sun-soaked beaches with mountain views will warm me on even the coldest Ohio winter days.
Do you have other favorite beaches on Kauai or elsewhere in Hawaii and the world? I'd love to hear your beach tales in the comments below or over on Facebook or Instagram.