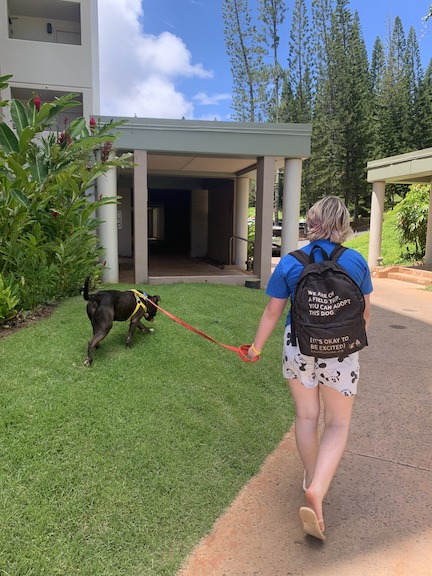 Have you ever "borrowed" a pet while on vacation?
I guess it's not surprising that we have done this. Actually, we've done it not just once, but twice.
We love our pets so much and missing them while on vacation is hard. Thankfully, there are ways to make the most of our time apart.
Several years ago, our family had a wonderful vacation with an unexpected bonus: a vacation cat.
Back in those days, we didn't have a cat of our own yet. Ramses was a resident at the Air BnB where we stayed, and he ended up bunking in with us. We loved it!
This year, a highlight of our unforgettable family vacation in Kauai was taking a dog from the Kauai Humane Society out for a field trip day. This is a wonderful program that I'd love to see shelters in our area adopt!
It was so nice to be able to give Pono the sweet shelter pup a day out in the sunshine and fresh Hawaiian air. Plus, we got to hug and love on a wonderful dog for the day, helping us to miss ours less (or possibly more? It might have backfired!)
It's easy to visit the Kauai Humane Society website and sign up for the day and time you want. Then you just show up at the shelter and a staffer comes outside to talk about your hopes and plans for your field trip day with one of their dogs. Then, they pair you with a dog they think will be a good fit.
Some families said "good with kids" or "loves to hike" as the characteristics they were looking for in a day-dog. We simply said we'd like to take out a dog that doesn't get out much – and that we are fine with a pit bull.
The staffer's eyes lit up. "You okay with a big pit bull?" She asked. "He's super sweet and loving – but people are often scared of him because of how he looks." She told us one woman actually screamed the first time she saw this dog! We told her we'd love to take him out.
And that's how we met Pono. What a sweet, lovable and smart boy he is! Pono means "righteous" in Hawaiian and he is a righteous good boy. He is passionate about snacks and cuddles – we were a perfect fit for each other.
I had advised my daughter not to kiss his face or hug Pono until we had spent a couple of hours together and were sure the dog would be okay with it. That advice went straight out the window. Those two were snuggling from the moment they got in the backseat of our rental car.
Pono was a lover! He preferred to be leaning up against Z or have his enormous paws in her lap. By the end of our time together, he had his head in her lap, too, as he was tired from all our fun.
And what a head Pono has! He is not a particularly tall or large dog, but he weighs 70 lbs primarily because of his cinder block of a head. He's an absolute unit!
Okay, so Pono might not be traditionally handsome – he has a few facial scars that are from bad times in his past. But to us he is gorgeous and he's a total sweetheart. If you want a dog who looks like a badass warrior but is actually a loving, sweet family pet, then Pono is for you.
Z and I still miss him. We wanted to take him out a second time during our stay in Kauai, but it just didn't work out. I truly hope this good boy gets adopted soon! Pono can be adopted on Kauai, or he can be flown to the mainland and adopted there. If you're on the West coast and have room in your heart and life for our sweetheart boy, please consider giving Pono a forever home! We would in a heartbeat if we could.
During our day together, we took Pono out for breakfast at an outdoor cafe. He sat patiently with us in the shade, watching many chickens and roosters go by and drooling a little bit but never chasing them. He showed interest in adults and kids, but never tried to go to them. When one couple asked to come over and pet him, we gladly said yes and he was happy to sniff hands and get head scritches.
Pono LOVES people food. He begged handsomely for a bite of our bagels that morning, but never tried to grab any. While we were on strict orders not to give him people food, he definitely got a ton of treats; he took them as gently as any dog I've ever owned. The shelter provides each field trip dog with a backpack full of all the supplies you might need: water, bowl, treats, towel, leashes and more.
After breakfast, we took Pono to see some sights. He and Z stayed in the car together with the AC on while I checked out the Spouting Horn blowhole, then we went to a beach that was dog-friendly so he could dip his paws in the ocean. He liked walking along the beach but didn't want to swim, so we took him to hang out in a shaded area on some grass instead.
Honestly, Pono loved riding in the car best of all. He loved having his big snoot out the window and snuffling all the good smells. He loved snuggling up to Z and resting his gigantic noggin in her lap. And, best of all, he loved all the hugs, kisses and loving words that kept coming his way. We told him a hundred times what a loved, handsome and good boy he is.
Z and I both count our day with Pono as one of our favorite days in Kauai. I'm so thankful to the Kauai Humane Society for this wonderful field trip program, and for the great care they obviously give to their pets. Z and I were sad to take Pono back to the shelter, but he was happy to go and wagged his tail as he trotted in the door. He clearly loves the workers there and considers it home for now.
But I do hope that Pono will get a true, forever home of his own soon. He's a sweet boy and deserves the love and comforts of a family and his very own home. Please share this post with anyone you think might want to adopt Pono!
Edited to add: not long after we wrote this post, Pono was adopted and went to his forever home! #AlohaforAnimals