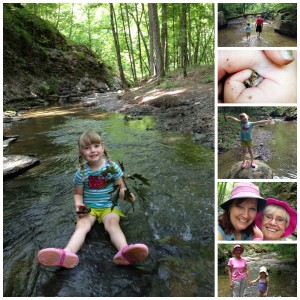 Our favorite new Central Ohio family fun discovery and the crowning gem of summer 2014 was without a doubt Shale Hollow Preserve, which just happens to be less than two miles from our house.
Although this natural wonderland officially opened in December 2013, we didn't visit it until this summer in peak creekin' season. What a jewel we found. Situated on 188 acres, there are some unique geological features at Shale Hollow that make it more than just a pretty spot to go creek-walking and exploring. The park also contains some of the oldest forest growth in any of the parks in the Preservation Parks system.
I reviewed the park on Yelp back in June as a way to help others find the area's best local spot for creekin' – but reluctantly so, as I would hate for it to become too heavily traveled and visited. We went in June with Zoe's cousin, visited again in July while my Mommers (Zoe's Gran) was staying with us, and finally managed to drag E into the creek with us in early August. Each time, we had the creek to ourselves and only saw a few other park visitors during our time there.
Columbus Dispatch said geology takes center stage at this park, but I know someone who would disagree. For Zoe, who isn't quite old enough to appreciate the amazing rock formations and different varieties of shale, the creek is the highlight here. It's perfectly cool on a hot summer day, the water is always clear and she loves turning over rocks to see what critters may be hiding underneath. One day we got lucky and she was able to catch her very first frog – an exciting moment!
Judging from the photos in many of the articles linked in this post above, and this one from Trek Ohio, Shale Hollow Preserve will be beautiful in all seasons – including winter. I can't wait to see it when the leaves turn color this fall. I think it's safe to say we'll be year-round regulars at this wonderful new addition to our neighborhood.
What's your favorite creekin' spot in central Ohio – and have you visited the lovely Shale Hollow Preserve yet? As always, we'd love to hear your stories in the comments below.