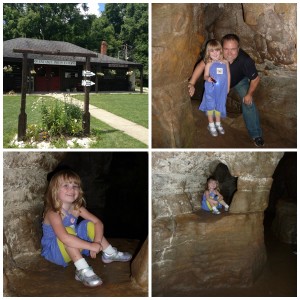 Last time I blogged about Olentangy Indian Caverns, we hadn't been down to the caverns themselves yet. I'm happy to share that before the epic summer of 2013 ended, we did in fact go down underground and check out the dark, spooky, wonderful caves! Here's our full report.
First, know that you don't have to wait until summer to go. The caverns open back up again April 1. The temperature down in the caves is always a uniform 54 degrees which felt refreshingly cool on the hot summer day we visited – but might actually feel warm if you go on a chilly spring morning. Heck, right now in the heart of a particularly bad Ohio winter, it sounds heavenly!
The cost to visit the Olentangy Indian caverns is $9.95 for adults 17 and up, $6.95 for kids ages 7 to 16, and free for 6 and under with a paying adult. This seems a bit pricey to me. I get that it's a unique natural phenomenon, they have to pay to keep things up, etc. Still, I wish they had a "pay one price and visit all summer" rate or membership plan. We really liked the experience, but with the current price structure, it's unlikely we'd go down into the caves again anytime soon unless it's to bring friends or family who have never visited and really want to go.
I recommend printing and studying this map of the caves before you go, so you'll be ahead of the game and know what to look for (they have this map available at the store, too, in case you forget to bring it). The caves are surprisingly labrynthine and I think you could get a bit turned around if you don't have an idea of what to expect – also, you never know if you might suddenly start to feel claustrophobic or panicky, so it's a good idea to bring a flashlight and know where the exit is in relation to where you are. Other watch-outs: the caves can be drippy and/or slippery, so wear smart footwear and clothes you don't mind getting a bit messy. And, we did see a few bats when we went – which for us was a plus but I suppose could freak some people out.
We took the self-guided tour and found our way around easily enough. Zoe loved the tight squeezes and little "cubby" areas only she could fit into – and we all had fun pretending to be explorers and adventurers. The caves are a wonderful place to let little imaginations run wild – and if anyone gets scared, the stairs and exit are never too far away. I think Zoe did get a tiny bit spooked by the echoes toward the end of our tour, as she asked to be carried up the l-o-n-g flight of stairs back up into daylight!
All in all though, it was a fun adventure and if they had a summer membership rate, I think we would definitely be up for repeat visits "down under." Plus, there are plenty of other activities on the beautiful Olentangy Indian Caverns grounds, including mini golf, gem mining (always a favorite), wooded nature trails and more. It's a lovely spring or summer spot for a meet-up with friends, and there's plenty of room on the 38 scenic acres to spread a blanket or grab a picnic table and enjoy a packed lunch.
What have you enjoyed at Olentangy Indian Caverns – do you like to go down into the caves or stay above-ground and enjoy the other activities? I'd love to hear in the comments below!
We are counting down the days until spring… how about you?