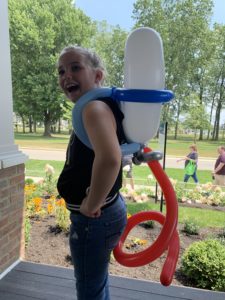 Everyone in Lewis Center, it seems, is curious about the enormous new Evans Farm community coming together on Lewis Center Road between South Old State and Rte 23.
That's why we were especially delighted to receive tickets to tour the spectacular BIA Parade of Homes event at Evans Farm, right here in our own Lewis Center back yard. I knew E and I would love touring through drool-worthy, upscale homes for design and decor ideas.
The one question I had, though, was: should we take the kiddo along, too?
I asked a few friends, we decided to risk taking her along and the three of us ended up having a fabulous family fun day touring gorgeous, fancy new developments at Evans Farm. Z was glad she came with us and we were happy to have her along. There were plenty of families there with kiddos in tow, and even some activities to make it more fun for the little ones, such as a fab balloon artist who made Zoe a jetpack!
The houses were incredible to walk through, loaded with the latest upscale features and design trends and truly awe-inspiring in many cases. You can ogle photos of each MTV-style crib right here. We got so many ideas for paint colors, decor and other fun features we'd love to incorporate into our own home someday – like a more functional front entryway/mudroom, glorious improvements to our outdoor space/patio and even a hidden little Harry Potter-themed room under a set of basement stairs. So cool!
Z was as awed by the homes as we were, and as we entered each house we told her to "find her room" (typically upstairs) and then we all began comparing the homes, figuring out our favorites and least faves – and just enjoying the adventure of exploring our way through such fancy, fabulous spaces.
Seeing all those gorgeously decked-out homes even made me enjoy our own home and style more. After a while, we all grew tired of the predominant greys that are so popular right now – although a few designers added pops of color that I particularly loved.
I can say that I've never seen fancier basements or bathrooms in my life – and I'm in love with the trend of having a big, showy kitchen with a smaller, working "messy kitchen" tucked away behind it (although I likely don't even need the big one – a simple messy kitchen has always worked well enough for my purposes!)
The Evans Farm developers have done a great job keeping some of the area's grand, older trees intact and I do love the idea of a walkable community with shops, parks and a YMCA so close to our own neighborhood. I'm looking forward to seeing how the community continues to develop and hoping that it will all mean good things for home values in Lewis Center!
Have you visited the Evans Farm community or another BIA Parade of Homes event, and what did you think of it? I'd love to hear your take in the comments below or over on Facebook.