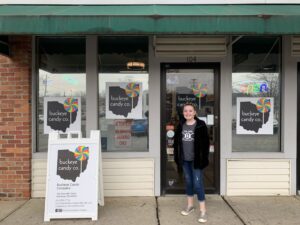 This week, Z and I discovered a place that is made of childhood magic. She and I set out on a real-life candy quest and found ourselves walking through the door at Buckeye Candy Company in Gahanna – truly a paradise for any lover of sweets!
Do you have fond childhood memories of getting "candy money" and going to the candy store in your home town? I sure do. In fact, I have these sweet, nostalgic memories from both sides of the Atlantic.
In Northport, the picturesque little seaside town where I grew up on Long Island, my brother and I would save our allowance and ride our bikes into town to go to what we called "the penny candy store," which has unfortunately long since closed. There, we'd buy bulk candy by the quarter pound – Haribo gummy bears and cola bottles, malted milk balls and so much more.
In addition, every time we visited my grandparents in England, we'd get "pocket money" from our relatives and then walk to the nearest newsagents, which are small, ubiquitous shops in the UK that sell newspapers, magazines and sweets (candy). There, we'd overdose on delicious British chocolates and other candies, setting me up with a lifetime sweet tooth and a hankering that only overseas sweets will satisfy!
Stepping into Buckeye Candy Company was like walking back in time, because I had the same elated feeling when I saw their massive spread of every possible kind of candy you can think of.
This place makes Willy Wonka's look inadequate. They have it all! If you love candy or any kind of sweets – including a diverse array of ornately adorned rice crispie treats and uniquely flavored cotton candy – this place is your jam.
Z and I had negotiated a fair agreement before walking in; we would each get five things for ourself. (It was tacitly understood that we would not immediately eat all five things at once, of course).
I was able to choose my five items fairly quickly; I went right for the British sweets selection and stocked up on my favorites: Maltesers and Turkish Delight. Sweet fancy moses, I love them so!
I also treated myself to a package of Dave's Sweet Tooth Toffee in Peanut Butter Crunch flavor. I had seen Buckeye Candy Co. talking this up on Instagram and I simply had to try it for myself. (In a word: scrumptious!)
Z took a lot longer to make her decision. First she had to try to re-negotiate for more items (nope – we had agreed on five and five is MORE than enough). Then, she had to explain why one item was so small it should count as a half. Finally, after much moping about how the decision was too hard and there was no way she could ever narrow it down to five, she made her choices.
Bottom line: if you like to treat your kiddo to sweets once in a while – or even just your inner kid, as the case may be – this place is paradise. Great selection, great quality and everything really nicely organized, displayed and merchandised.
This would also be a fantastic place to pick up candy for Valentine's Day, party favors, stocking stuffers or any other occasion. Stop by – you're sure to find something sweet to put a smile on anyone's face.
What's your favorite candy store and why – and do you have the same happy childhood memories about going to the candy store with "candy money" in your pocket? Man, that was the best. I'd love to hear your stories in the comments below or over on Facebook.