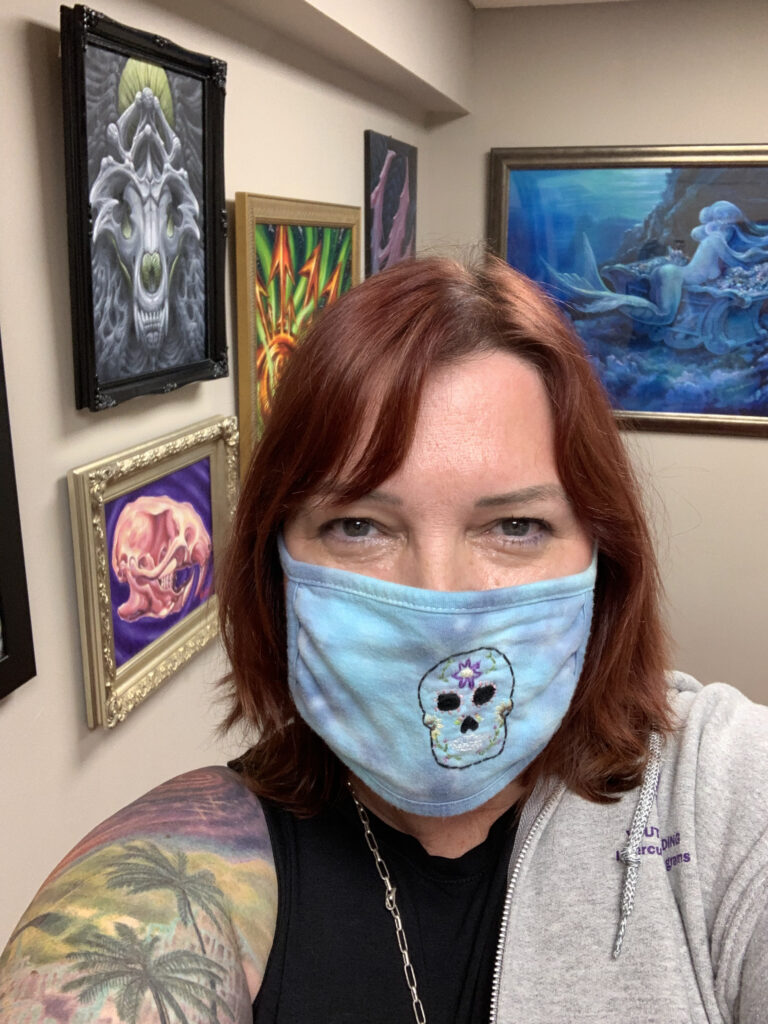 I've been getting tattooed for more than half my life.
I've been a serious collector of custom tattoos for more than 20 years.
And after spending countless hours in dozens of tattoo shops with many diverse artists, I've finally found what I consider to be the ultimate, premiere, custom tattoo experience: the private, appointment-only studio known as RedTree Tattoo Gallery in Columbus, Ohio.
I've spent a fair amount of time at RedTree this year.
Throughout most of 2021, I've been working on my first-ever full sleeve tattoo with Fawn Baker at RedTree. This wrist-to-shoulder tattoo is something I've wanted for decades. Seeing it brought to life through Fawn's talents has been nothing short of amazing; it deserves its own post.
Every step in my tattoo journey has brought me to this point.
My tattoo collection started in 1995 with a walk-in experience while traveling. I was a young PR professional on a business trip in Texas with a friendly colleague and our client.
After dinner and wine in downtown Dallas, we three cabbed over to the Deep Ellum neighborhood to find live music, drinks and adventure. Ultimately, two of us ended up getting spontaneous, walk-in flash tattoos at a shop that was open until the wee hours. I still remember my excitement and giddiness over that first tattoo!
It's funny to me that I'd wanted, dreamed about and plotted my first tattoo for years, but then actually ended up getting it in a very spur-of-the-moment time and place.
I've come a long way since that night, and so has my tattoo acquisition process. I'm far more intentional about my collecting now. No more flash from strangers for me – today, it's all custom work with artists I have researched and concepts I've put a lot of thought and heart into.
When you get a fine art tattoo, you invest significant time and resources with your artist. Due to the unique nature of the tattooing experience, artist and collector get physically and even emotionally close; it is basically an energy exchange. You want to make sure that not only is the artist a good talent and chemistry fit for you, but also that the tattooing environment feels safe, comfortable and relaxing.
That's why I am so happy to have found Fawn and RedTree. I had heard of RedTree since its beginning because I got some work from its founder, local tattoo legend Durb Morrison, back in 2004 when he was at Stained Skin. I'm so glad I finally got to check out the amazing RedTree this year.
The entire RedTree experience is incredible. The place is packed with tattoo royalty and total rockstars.
As if working with a top tier artist like Fawn wasn't already cool enough, a visit to RedTree also means you are surrounded by absolutely awe-inspiring art on the walls, in each artist's room and even on the outside of the building itself.
Then, there are the people you meet. RedTree is home to epically talented artists like Durb and Fawn, as well as Marty Holcomb, Jordan Rookus and so many others. Not to mention the lovely Cervena Fox, an internationally acclaimed burlesque star and another of RedTree's artists.
The RedTree team also host super cool events like art exhibitions, parties and more. Last month, we loved the Weird and Wonderful Art Bazaar – my kiddo is already looking forward to next year's event.
If you love art and tattoos, you need to be following RedTree on Instagram and checking out their artists. Durb and his team have literally created industry-wide best practices on tattooing and client care. You won't find a better custom tattoo experience anywhere.
If you've been thinking about getting a tattoo, RedTree's artists get my highest recommendation – and there is literally an artist there who excels at every possible style and art type. What are you waiting for?