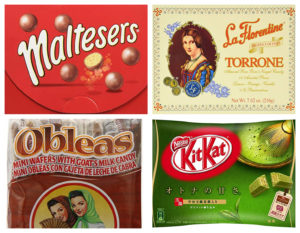 Maybe you're looking for some delicious, exotic stocking stuffers for the upcoming Christmas holiday.
Or maybe you're just a global sweets hound like me!
Either way, I've got a list of my favorite international candies and treats from Amazon and I'm going to share it with you right now.
If you or someone you love spent time abroad as a child, chances are there's a hankering for sweets from that country that no amount of American candy could ever fill.
I will turn my nose up at most American candy, because my childhood shuttling back and forth across the Atlantic made a real chocolate and candy snob out of me. Give me Haribo gummies and English or Swiss chocolates, or I want nothing at all!
Thanks to Amazon, there's an entire world of sweets within our reach.
Without further ado, here are my favorite treats that I reach for any time I want a taste of childhood or a sweet, tangible memory from a fabulous past vacation.
1. Maltesers from the U.K. Please don't be fooled by the new "Maltesers" packaging available here in the U.S. – inside those duplicitous red boxes and bags are nothing but ordinary, garden-variety, American malted milk balls – very similar to Whoppers. Instead, go to your nearest British foods shop or Cost Plus World Market (or order straight-from-the-U.K. Maltesers from Amazon at the link above) because ONLY the real thing will do. English Maltesers are like heaven on earth. They're the literal embodiment of my childhood – the taste takes me right back to all those annual trips to the U.K. with my family. If you like American malted milk balls, you will LOVE English Maltesers.
2. German marzipan. If you have German relatives, you've probably tried marzipan – a soft paste made from almonds and confectioner's sugar that is often sculpted into darling shapes like fruits or little piglets. I'm a huge fan but not for any particularly nostalgic reason. In fact, I seem to recall that I didn't like marzipan much as a child! However, as an adult I've grown to love it and the cuter the shape/form, the better. If it's tiny, adorable and delicious then you'd better believe I'm a fan – and marzipan fruits or pigs certainly check all my boxes.
3. Cajeta/jamoncillo candy from Mexico. Dulce de leche (caramel) is to die for, and these little wafer candies feature goat's milk cajeta (caramel) between thin candy wafers. I had them for the first time in Mexico on holiday a few years ago, and I was delighted to find Amazon stocks them too. I love all sorts of Mexican milk candy, including jamoncillo (long formed tubes made of cajeta or dulce de leche). If you like caramel, these have a similar flavor but are softer, creamier and easier on your teeth. Delicious!
4. Italian torrone. Are you sensing a theme here? I always love soft, chewy textures in sweets and these Italian almond nougats are just incredible. True story, I've never been to Italy but I did grow up in Long Island with a ton of Italian friends, so I have a true appreciation for pasta and red sauce, lasagna on Christmas and these amazing Italian sweets. The La Florentine variety I linked to on Amazon comes with vanilla, orange and lemon flavors – each in an adorable, attractive little box – and you'll have a hard time deciding on your favorite flavor.
5. Japanese green tea Kit Kats. True story: over the summer, we took the York Chocolate Story tour in York, England and learned all about the history of chocolate from its invention/creation until now. We got to try all different kinds of chocolate, from the bitter cacao nibs to the sweetest milk chocolate. We also learned all about the Kit Kat bar, one of York, England's most successful exports – including its hundreds of unique flavor varieties in Japan. One flavor in particular, green tea Kit Kat, is considered especially delicious. Our beloved exchange daughter, Napa, is a huge fan of these having tried them in her native Thailand! If you like Kit Kats and green tea, definitely give these a try – they're a delight.
So, there you have it – five fabulous sweet treats from around the world, all of which can soon be at your doorstep thanks to Amazon. And no, I'm not sponsored by Amazon – if anything, they're sponsored by ME because of all the shopping I do on the site! 😉
What's your favorite international dessert or candy, and do you find yourself craving it as an adult? I'd love to hear your stories in the comments below or over on Facebook.
And if you liked this post, you may want to check out the others in my Friday Favorites series.