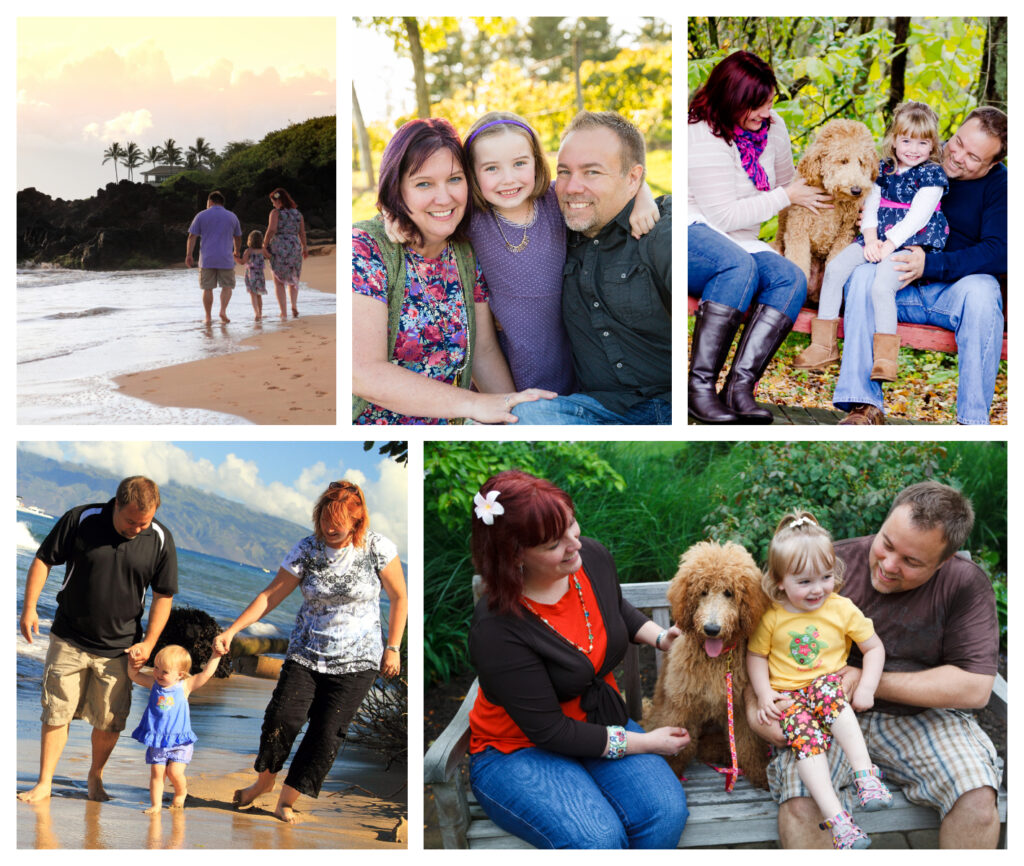 I love photography. I love both taking pictures myself, and also arranging fabulous shoots for our family with professional photographers.
There is almost nothing that can get me feeling as giddy and excited as planning out the perfectly themed family photo shoot – especially if it's around a special vacation or season.
I love planning the setting, picking the photographer (we know so many amazingly gifted photogs!) and, perhaps best – and most stressful – of all, choosing our coordinated outfits.
My family puts up with my photo obsession… to a point. I would love to do several of these productions a year, but hubby and daughter absolutely draw the line at one. They begrudgingly agree to humor me for one professional photo shoot a year. Honestly, they're probably right – doing just one shoot a year makes me appreciate it even more.
Beaches are one of my favorite locations for a family photo shoot. Hubby and daughter have suffered loudly through sandy, salty and sweaty photo shoots on beaches in Maui, the Turks and Caicos and many more. Looking at past vacation portraits is one of my favorite pastimes. Heck, what do you think is getting me through this pandemic season of no travel?!
I've learned that the worse a photo shoot feels, physically, the better the pictures will come out. It's proven true for us time and again!
I've even dragged other, extended family members along at times on these shoots – namely my parents. They think I'm nuts, but they usually go along with it since I foot the bill and always share the portraits.
I like to change up the setting, themes and even seasons of our annual family photo shoot. We've done flower fields a few times (wildflowers with Napa in 2018, then sunflowers last year just the three of us). We've done gorgeous fall settings in local parks and vineyards – and of course, beaches galore while on vacation.
E, Z and I last had a traditional, winter-themed Christmas card photo shoot on a legendary, bitterly subzero day in November when Z was not yet a year old. The poor babe literally turned white, then blue with chattering teeth while the shots were taken! (But yes, she warmed up just fine afterward and didn't seemed to mind much)
This year I want the traditional Christmas card photo again set in a wintry or at least holiday related setting, with red and pine accents, sweaters and boots, the whole nine yards.
Because it is 2020, with the way this year has gone so far, our family photo shoot will likely be miserable. More than likely, we'll have an unprecedented, scorching heatwave in the early part of October, forcing us to sweat it out in holiday-esque attire in a stifling hot field for 15 minutes trying to look festive without dying.
I can't wait!❤️🎄
Do you love family photo shoots as I do, or are you a family member who gets dragged along against your will like E and Z? I 'd love to hear your family photo shoot stories in the comments below or over on Facebook.