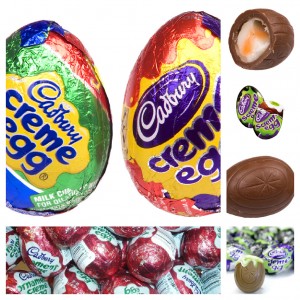 This post goes out to my homies: my fellow sugar junkies and sweet fiends who can toss back handfuls of candy corn like normal people snack on peanuts. Those who are serious about candy – the sweeter, the better. Those who, like me, worship the Cadbury Creme Egg.
Cadbury Creme Eggs have been my favorite sweet thing to stuff in my mouth for more than 35 years. They are the stuff of my sweetest childhood memories and I've never outgrown them. When I hear people say "Oh, I hate those things, they're so sweet they make my teeth hurt," I just shrug my shoulders and smile, knowing that just leaves more CCEs on the shelf at Easter time for me.
I have been dreaming about, hoarding and special ordering Cadbury Creme Eggs from overseas (yes I'm serious, and I'm not the only one) for decades. Three things in life are constant, my friends: death, tattoos and my love of Cadbury Creme Eggs. The fondant ones only, though – none of these chocolate or caramel-filled imposters, and certainly no off-brand knockoffs.
Like all good love affairs, the CCE and I have been down a rocky road. First there's the noticeable taste difference between the UK original and the inferior US version, as noted by the Wall Street Journal. That took a lot to get used to for a kid who grew up eating the British kind, and I still order myself some from the UK each year as a special treat.
Then, there was the size change, when Kraft Foods/Hershey/whatever devils make the crappy American CCEs started making them smaller even though the companies (including parent co. Cadbury) totally denied it for a while on their website. I had known about it for years but finally blogged about this giant conspiracy back in 2008 after BJ Novak confirmed it on Conan.
Ahh, but despite my fickle beloved CCE's unsavory behavior, I was thrown a few bones to keep me hooked. First, they came out with Mini Cadbury Creme Eggs and their darn adorable packaging to further ensnare me in gooey goodness. Then, in 2007, the marketing idiots geniuses at Cadbury came out with a Christmas version of the Creme Egg to whip afficionados like myself into an orgiastic holiday frenzy. It totally worked. Although inside they were identical to the Cadbury Creme Egg, the outside was wrapped in red and white foil and they were oddly named "Cadbury Ornament Creme Eggs." I loved them and was so sad when they stopped coming around at Christmas.
It's always ups and downs with these darn CCEs. I remember when the Easter retail season started coming earlier – now as early as January – giving me a longer season to find and stock up on my lovelies. There were the now you see them, now you don't Cadbury Orange Creme Eggs (loved those, too). Then, during a recent year's UK sweets ordering spree, I discovered Cadbury had come out with CCEs in a bar form – the luscious Cadbury Creme Egg Twisted bar, available year-round. I got my hands on a few and they were amazing – a slightly lower fondant to chocolate ratio than I would have liked, but still stellar. Of course, they may or may not be continuing these – and I doubt the US will get any because these companies love to break my heart.
In 2010, I was hit with a dastardly blow when I learned the UK had come out with Cadbury Screme Eggs but we wouldn't be getting any in the US. Oh the horror! So you can imagine my shock and amazement this Halloween season when my darling E texted me a photo of our very own, readily-available US version of the Cadbury Screme Egg – now haunting your local Party City, Walgreens and wherever else fine Halloween candies are sold. Color me happy! And with any luck, we'll get Cadbury Screme Egg Minis next year, since Australia and the UK got them this year. One can only hope.
Not only is Halloween one of my favorite holidays anyway – what with the dressing up and all the free candy and letting one's freak flag fly – now I also have my own Halloween CCEs in a pretty green, purple and white foil wrapper. I'm sure you can understand why this big news merited its own blog post. And why I'll be backing my husband's truck up to our local Walgreens later to stock up on every last Cadbury Screme Egg I can get my hands on.
So, what about you – got a favorite Halloween (or anytime) candy? Are you a fellow Cadbury Creme Egg lover? I'd love to hear in the comments below.