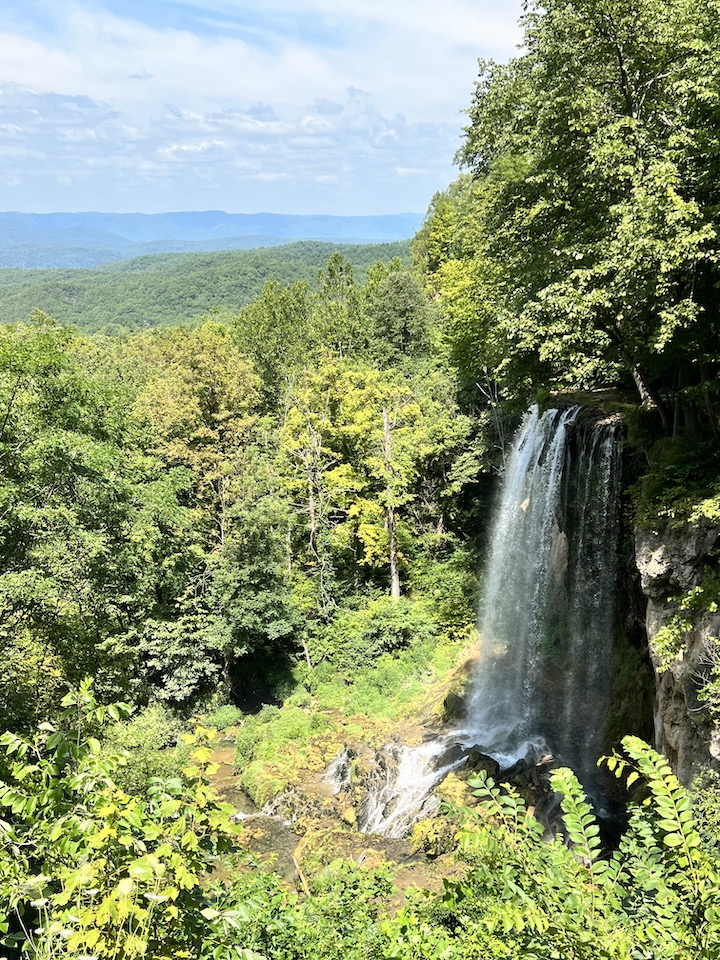 Tom Petty may have liked free fallin', but I personally prefer waterfalling.
Waterfalling is the act of seeking out wild, natural waterfalls to walk or hike to, and then getting as close as safely possible to take pictures, swim in their pools or just admire their unforgettable sights and sounds.
We've done a lot of waterfalling right here in Ohio. We've also been fortunate to visit waterfalls in amazing, faraway places like Mexico, Maui, Kauai and Costa Rica. Ultimately, waterfalls are beautiful everywhere and anywhere they happen.
After taking two road trips through West Virginia and Virginia, I truly believe they are two of the prettiest states in our union because of their plentiful waterfalls and abundant natural beauty.
West Virginia has an official state waterfall trail; there's a reason they call it "almost heaven!" Virginia, too, has spectacular waterfalls – this list contains 25 and they all look like winners.
On a recent multi-state road trip, we had the pleasure of visiting two gorgeous but very different waterfalls, one in WV and the other in VA. Here are our reviews so that you can visit them, too.
Sandstone Falls in New River Gorge National Park and Preserve, WV
While traveling south from Ohio through West Virginia on I-64, you have multiple options to stop and explore nature at the sprawling New River Gorge National Park and Preserve.
On this time through, we opted to stop at Sandstone Falls on the southern side of the park. I had read that although it's a low-drop waterfall, Sandstone Falls is stunning – and that is absolutely true. The largest waterfall on the New River, Sandstone Falls spans the river at a point where it is 1,500 feet wide. Divided by a series of islands, the falls drop 10 to 25 feet.
There is a lovely boardwalk throughout the Sandstone Falls park area offering multiple viewpoints of the falls. The boardwalk makes this a perfectly accessible walk for anyone, including folks using wheelchairs or little ones in strollers.
Our favorite part of our visit, however, was when we left the boardwalk and did some rock hopping at the New River's edge. There, calm waters and sunshine showcased the falls beautifully, as did the Appalachian hills in the background.
There were many families swimming in protected areas of the river, and we could have spent hours there had we known it was possible to safely get into the water. I hope to return someday as it was one of the most idyllic, gorgeous spots imaginable – like a scene right out of A River Runs Through It or Legends of the Fall.
Falling Spring Falls near Covington, VA
At the opposite end of the waterfall spectrum, we also visited a showy, high-drop falls further south on our drive through Virginia. We hadn't planned a side quest for day two of our road trip, but when we noticed a road sign for Falling Spring Falls, we knew we had to pull off and give it a visit.
Sure enough, this is one of those waterfalls you don't have to hike or walk to get to – it's just right there at the side of the road, looking gorgeous. It almost feels unfair to witness such natural beauty without exerting any effort to get there! A short detour off the highway took us through the little town of Covington, up and down some winding mountain roads, and ultimately to a scenic overlook with stunning views of this 80-foot-drop dazzler of a waterfall.
It's not a place you can sit and stay for very long, and you do have to take your photos through a chainlink fence, but the jaw-dropping natural beauty of this waterfall – with the lovely Blue Ridge Mountains as a backdrop – is not something I'll forget anytime soon. I highly recommend making this stop anytime you're driving through Virginia on I-64.
Isn't it amazing to think that you can drive across this country without even knowing there could be gorgeous waterfalls located just minutes from the highway you're traveling down? It's a great reminder to me that I need to research every drive before we take them so that, time permitting, we can visit waterfalls every chance we get.
Even if you're not up for doing a lot of research before a trip, do yourself a favor and search "waterfalls near me" from your phone while traveling just to see if there's something amazing right around the next bend.
Waterfalling is definitely the life for me. If you agree, won't you let me know in the comments below or over on Facebook or Instagram?