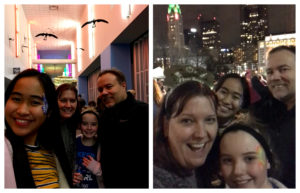 Happy new year, one and all! We ended our 2018 in the best way possible: dancing, laughing and exploring at the hottest family party in central Ohio.
Here are our top ten reasons why you should mark your calendars now to celebrate New Year's Eve at COSI for First Night Columbus!
10. It's the longest running family-friendly New Year's Eve party in central Ohio. First Night was brought to Columbus in 1995 and is part of an international alliance of more than 100 cities designed to showcase the visual and performing arts.
9. First Night Columbus is fun for all ages. This year, we saw everyone from babies to grandparents, and both our 8 and 16 year old had a blast. We've gone before in years past with a group of kids ranging from 2 through 14 and they all loved it, too.  There's literally something for everyone at COSI! 
8. Whether you're newly sober or you've been at it a while, New Year's Eve can be a real pain. First Night Columbus is a totally substance-free and sober party which means you can dance, laugh, enjoy live music and never have to worry about bars, alcohol or other substances. And no hangover the next day (unless you get one just from staying out too late, like me!)
7. Killer DJ. I kid you not, the DJ Shane D at this year's First Night Columbus was one of the best I've ever heard – including at night clubs and bars. The dance floor at COSI was rockin' and I'm not just talking about the kids. The parents were loving his mix of old and new crowd-pleasers! I heard Wobble, Rob Base's It Takes Two and so many more. I love to dance and First Night Columbus did not disappoint!
6. No list about the virtues of First Night Columbus would be complete without talking about how affordable it is! We love COSI, but it can be pretty pricey for families. If you buy tickets in advance for First Night Columbus, it's just $10 per person to get into COSI for an entire night (5:30 to midnight). Now that is a great price for all the fun and entertainment you get!
5. Face painting. This year, First Night Columbus featured FREE face painting for all kids! They also had a glitter tattoo station. What a fun little extra to help everyone feel super festive on New Year's Eve. I only wished I could have gotten mine done, too (I clearly stood in line for the wrong face painter because I saw many adults with their faces painted throughout the night!)
4. SpacePark 360 show at the Planetarium. Our whole family LOVED the simulated amusement park rides and space theme of this show, but it was not for the faint of heart. Your brain is tricked into thinking you're really on a death-defying slide or roller coaster! But the great thing is that if you become too disoriented or feel a bit motion sick, you can simply close your eyes to make it go away – your body is still sitting comfortably in the lean-back seat. This was $5 extra per person but well worth it!
3. COSI's dinosaur exhibit is especially fun after dark. If you already love COSI, seeing it at night will be a new adventure. There was just something cool and eerie about prowling through the dinosaur exhibit so late at night – it felt like we were in Night at the Museum and they would soon come to life and chase us! 
2. The live music. Many of the best musical groups in central Ohio performed at First Night Columbus, including the Shazzbots, Lt. Dan's New Legs and Cherry Blonde. I have so many fun childhood memories of dancing to live music as a kid, and I love finding opportunities for Zoe to do that, too. First Night Columbus was the perfect venue to sing and dance along with some great, family-friendly bands!  
1. And, last but definitely not least… the fireworks are AMAZING! Serious kudos to all the sponsors and organizers involved with First Night because that fireworks show at midnight was every bit as great as Red, White and Boom! Best of all, the crowd at First Night is always pretty manageable so we had an up-close viewing spot of downtown Columbus in all its glory lit by gorgeous 'works. And really great soundtrack, too, whoever put that together!
So after all this hype, you might think the night was perfect but I do have one quibble: the food. You don't go to COSI for the food and there should be other options available – especially since all of COSI's already limited options close by 10 pm. If I were the First Night Columbus organizers, I would line up a cadre of food trucks to park outside of COSI from 9 pm to midnight. That one addition to the festivities would make this a truly perfect and unforgettable night to remember!
How did you and your family spend New Year's Eve this year? Hopefully I've been able to convince you to join us at First Night Columbus as 2019 turns over to 2020 at the end of this year!