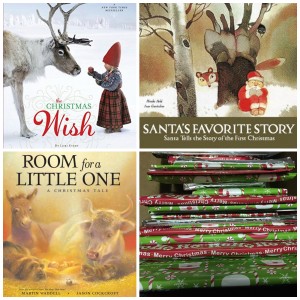 Reading is important in our house. I'm a life-long reader and truly love books, so I want to instill a similar joy of reading in Zoe. Thus, we have quite an extensive and ever-growing children's book collection in her room and several other areas of the house. We also ebb and flow with our weekend library habit, although I'll admit we haven't taken any books out in a while simply because our weekends have gotten pretty busy!
This holiday season, I decided to start a new tradition for our family: the 24 books of Advent. You can find lots of blog posts about this tradition, and a lot of ideas for implementation on Pinterest.  I really liked the frugal approach taken by Queen Bee Coupons and Indy With Kids, because trust me – this can get expensive! We had a few Christmas books already in our collection which I happily rounded up and wrapped, plus we found a bunch of great Christmas books at our local Half-Price Books (coupons made it an even better deal), and I'll admit I got the rest of ours from our usual place – Amazon. Once I had my 24 books, I wrapped them up and stashed them away in a box in my closet.
I know some people put all 24 wrapped books under the tree and let the kids choose which one to open each day, but I was afraid if we did that, they wouldn't last until Christmas Eve. So, each morning of December, one shows up in front of our fireplace and Christmas tree. Interestingly, because we began our new Elf on the Shelf tradition at around the same time, Zoe made the natural assumption that the books are a gift from Santa and our elf, Emmalina – and we're fine with that. Anything to get her interested in books and reading!
So far, it's been a wonderful way to count down to Christmas Day. Each morning, Zoe is equally excited to find where her elf may be hiding AND to open the book left for her in front of the fireplace. This morning she unwrapped the first of our old books from her existing collection. I held my breath a bit, wondering if she'd notice or say anything, but all she said was, "Oh Mommy, I know this one! We love this book" – and we do.
To keep the selections somewhat fresh, each year, I plan to donate one Christmas book from her collection so that I can buy her one new Christmas book a year to keep our total at 24. At least, I'll do that until we are at a point where all 24 are beloved favorites and we can't part with any of them!
So far this year, there have been some surefire winners and some that are not our favorites. A few I chose based on good reviews, but they may be better suited for older kids, so perhaps she'll grow into them. Definite favorites for our whole family so far have included several by the wonderful Jan Bretts, including Christmas Trolls; the gorgeously photographed (and photoshopped) The Christmas Wish; and Bear Stays Up for Christmas. If anyone's interested in seeing our full Christmas 2014 book list, I'll be glad to post it once we have them all opened!
The 24 books of Advent has been a lovely addition to our family's traditions around Christmas time. Have you added any new holiday traditions this year? As always, I'd love to hear from you in the comments below or on Facebook.