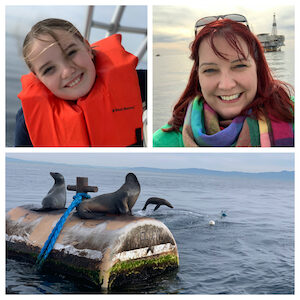 I grew up in an East coast sailing family and lived on the beach, so we've had plenty of pretty cool sea-life adventures over the years. All are unforgettable in their own way.
We've encountered manta rays while sailing both in the Sea of Cortez and around the islands of the South Pacific. We've seen an enormous hammerhead shark off the coast of Nantucket and countless sea lions while sailing around Baja California Sur, Mexico. Most recently, we had wonderful humpback whale encounters in the waters of Banderas Bay, near Puerto Vallarta.
Buy my favorites by far are the wild dolphins we've encountered, beautiful and free, in both small and large groups while boating in and around Maui, Mexico, the Caribbean and California.
Dolphins are by far my favorite sea mammal and the most fun to encounter out in nature, mainly because they always seem like they're having so much darn fun themselves!
Most recently, my brother took our family out on his boat for a day over Christmas break. We motored out of their marina in Long Beach harbor on a cool, clear Los Angeles morning in search of the ultimate prize: a pod of wild Pacific dolphins. We knew there were no guarantees, but bro and his fam see dolphins often enough that we were ever hopeful.
Our three girls – Z and her Cali cousins – were in high spirits, merry and laughing as they begged their uncle/dad to "go faster, go faster!" We soon spotted the usual sea lions lazily basking on a buoy. We left the California coast behind us and zoomed out into the Pacific at a pretty good clip, navigating toward Catalina Island in the distance.
Before an hour of cruising had passed, the girls began to call out "dolphins, dolphins!" from the prow of the boat. We slowed down to enjoy the sight of a massive pod of Pacific dolphins in a feeding frenzy at the surface of the water. It wasn't hard to spot. Sea birds circled, dolphins leapt out of the water and we even saw some sea lions in the mix, diving and circling for their own fishy meals.
After watching all this sea-life for a while, the activity began to die down so we resumed cruising. A pod of dolphins joined us and kept up with our boat – racing along at the bow, just under the girls' feet. One even leapt up far enough to touch the bottom of Z's feet, sending her into a gale of giggles and shrieks.
The videos and photos we took that morning cannot capture the beauty of what we experienced. Joyful, mutual encounters with nature – especially ocean life – fill your soul in a way nothing else can. When wild dolphins choose to hang out and travel with you – and are obviously having as much fun as you are – it's breathtaking.
That was absolutely one of our favorite wildlife adventures ever – and certainly our favorite dolphin close encounter. Interacting with captive dolphins could never hold a candle to seeing them in their natural habitat, doing what they love in big community and family pods.
Have you ever encountered dolphins or other creatures in the wild and had a marvelous close encounter of your own? I'd love to hear your stories in the comments below or over on Facebook!