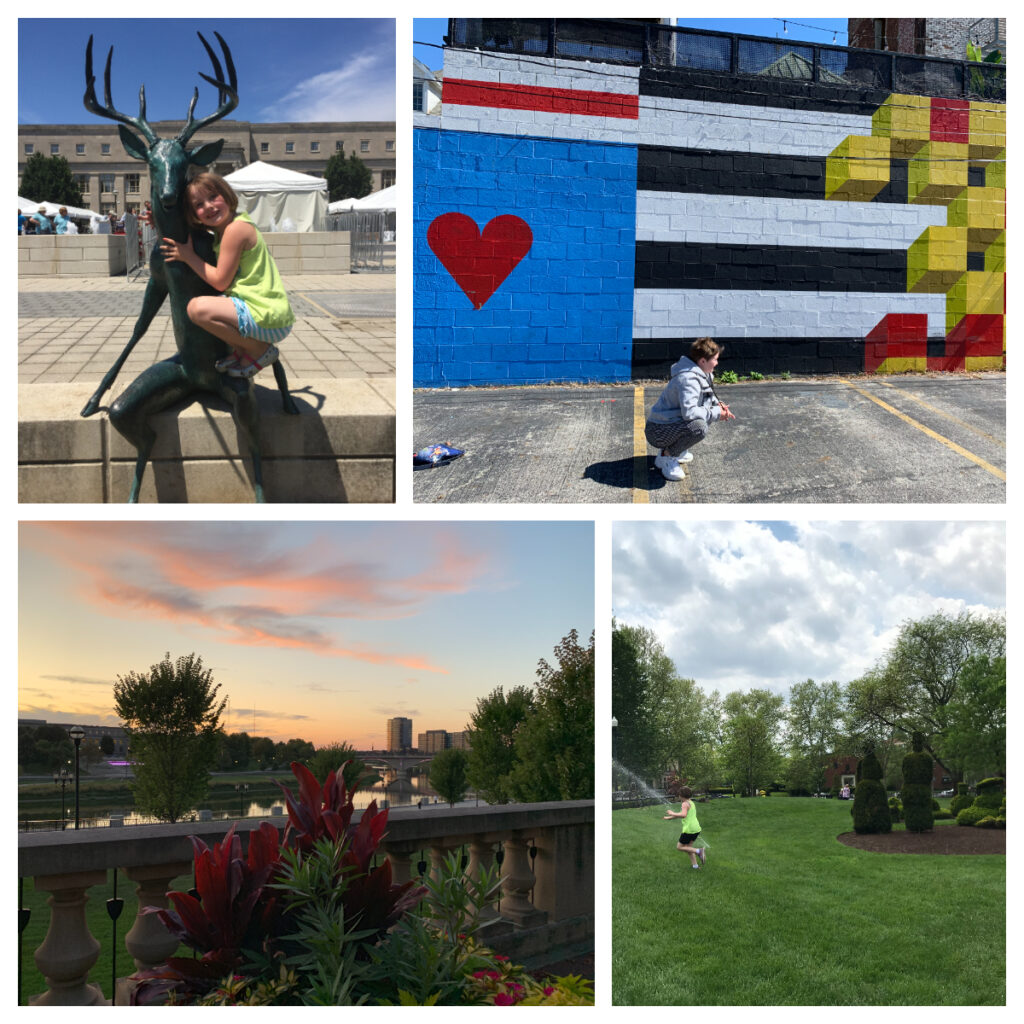 It's a gorgeous fall day – absolutely perfect weather to be outdoors. You rally the family for a nature hike, right?
Well, sure… that's one option. But I've got an even better one: why not head downtown for a novel outdoor adventure that's unlike anything you can see, hear, feel, taste or experience closer to home?
I'm always amazed at how many fellow suburbanites stay away from downtown Columbus when it's actually a family-friendly mecca full of free and low-cost fun. Downtown Cbus is an absolutely perfect place to spend a gorgeous fall morning or afternoon.
Here are some suggestions for super fun places to please the whole family in the "big city" of Columbus.
Urban adventures
Z and I spent a recent Sunday morning taking photos at the Columbus Color Wall, also known as the Columbus Love Mural. This is a parking lot located at the intersection of S. 5th St. and E. Main St. that features a long, gorgeously adorned wall that is the perfect setting for photos. Tweens and teens are always up for a cool spot to make a TikTok video or shoot a selfie for the 'gram – and I loved having a unique backdrop to take some pics of Z's cool new hair cut.
Likewise, the Short North Arts District is bedecked with tons of great public art, both planned and spontaneous (many of the latter popped up during the Black Lives Matter protests in June). Park at the Joseph garage on Russell Street in the Short North, then walk north or south along High St. to admire art on walls all around you. Be sure to look up and down the side streets as well, so you don't miss any. This is a great place to stroll and admire the street art while enjoying treats, galleries, shops, and restaurants galore.
Ready to ride a gorgeous carousel right in the heart of downtown? Head to Columbus Commons where skyscraper views surround a pretty park – and there's a terrific carousel right in the center. From here, you can walk down to the riverfront or over to the Statehouse for more fun exploring and great photo opps.
Natural vistas
For an unforgettable nature experience smack dab in the center of the city, visit the beautiful Grange Audubon Center. Located on a former industrial site where there was once nothing but junk, this is now a gorgeous nature center with acres of marshland, boardwalks, climbing walls and play areas to explore. Last time we were there, Z caught the tiniest, most adorable little frog.
Then there's Scioto Mile, the riverfront jewel of downtown Columbus, featuring interconnected parks, boulevards, walkways and bike paths. In the summertime, visit the incredible fountain splash park at Bicentennial park. Anytime of year, walk the Promenade to enjoy sculptures, scenic views and bench swings. This is a favorite place for both family days and date nights!
Goodale Park is a historic park in the Victorian Village area near the Short North. You can grab lunch at the North Market, then walk up to Goodale Park for a picnic by the lake. The park is framed by stone monuments with wonderful carvings on top – see how many faces you can find. The statue in the center of the lake is wonderful, too – does it look like an elephant wedding cake to you? Goodale is the oldest park in Columbus and one of the oldest parks in the country.
Here's one last downtown park worth a visit – the Topiary Garden, which is a life-size, living replica of Georges Seurat's famous post-Impressionist painting, A Sunday Afternoon on the Island of LaGrande Jatte. You have to see it to believe it – and it's such a lovely place for a picnic or stroll almost any time of year (but especially in summer, when it's full and lush).
Excellent nosh
There are so many great places to eat downtown – that's one of the things we love about going there! Our forever favorite is the North Market, an indoor market of food stalls where you can see, smell and taste so many different cuisines.
At the North Market, I'm partial to Momo Ghar for Nepalese dumplings and Nida's Sushi & Thai for pad thai or pad see ew noodles, but Z prefers pasta from Pastaria. The great thing about North Market is that everyone can get what they like best – and then come back together with Jeni's for dessert. Yum.
Another super fun thing to do downtown is visiting the food trucks at Columbus Commons on Thursdays, May through October. Right now, however, the food trucks require ordering ahead of time so visit the website to see who's there and what they're offering. This is another great way to try new foods and cuisines – and to ensure that everyone in the family gets what they like to eat best.
In and around COSI
Any post about taking kids downtown would be remiss without a mention of our fantastic and award-winning kids' science mecca, the Center of Science and Industry (COSI). Not only is COSI a day's worth of fun on the inside, but there are also cool things to do outside COSI for free.
For example, have you seen the fabulous Columbus deer sculptures yet? Park at or near COSI and walk behind the building toward the river, then over the bridge to see all three of them – and take your deer selfies. You know you want to. Z loves to give these deer statues hugs – they almost seem made for it.
So, there you have it – a few of our favorite spots downtown to engage your senses and please your kids. If I've missed any of your beloved and kid-friendly haunts, do let me know in the comments or over on Facebook!