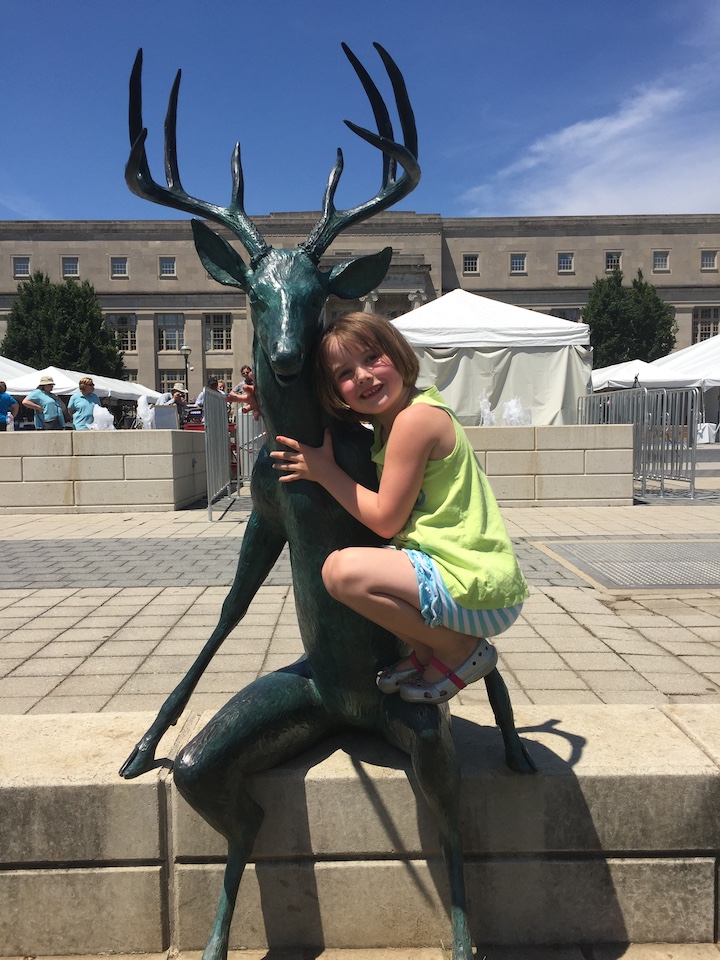 Have you visited the deer sculptures in downtown Columbus yet?
I love all public art, including sculptures and murals. Columbus has no shortage of great art on display, from the field of giant corn cobs in Dublin to our latest, a dramatic swath of colorful twine called Current that debuted over downtown in 2023.
I don't always "get" art – and when I say that, I mean the aforementioned sky-high twine sculpture.
I don't dislike it, I just don't really understand it. I was also concerned that birds might get caught in it, but apparently, the artist says that won't happen.
Anyway, that's why I'm so fond of the three deer sculptures collectively known as Scioto Lounge by artist Terry Allen. They are fun, whimsical and make sense to me.
Even though Columbus is the capital city, it's also surrounded by green spaces where deer are plentiful.
In fact, the Scioto River which runs alongside downtown Columbus was named by native Americans after the deer hair so often seen in the river. Scioto supposedly means "hairy water" in one of the native languages.
When Z was younger, we took a trip to downtown Columbus and she got to play on the deer statues. They are lifesize, solid and sturdy. Don't ask me how we know for a fact that they can hold the weight of a seven-year-old.
Visiting the statues makes for a perfect nice weather outing for families. All three deer statues are located along the Scioto mile on the riverfront. Park at COSI, then walk behind the building toward the river and then finish up by walking across the bridge.
I feel like most people have seen the deer statue on the Rich Street bridge, but not as many know about the other two located in the green space behind COSI.
The sitting buck is located at the top of Genoa Park, right behind COSI, where he watches over walkers and bikers going by on the trail.
The lounging doe is located on the grass behind COSI. Her positioning always reminds me of a woman in labor, but to kids, she just looks like she's napping or relaxing.
And, of course, the standing buck is located on the Rich Street bridge. He's likely the best-known and most photographed of the three statues.
If you're looking for more fun things to do in downtown Columbus, I've got you covered.
Have you visited the three Scioto Lounge deer statues downtown? As always, I'd love to hear your deer tales in the comments below or over on Facebook or Instagram.