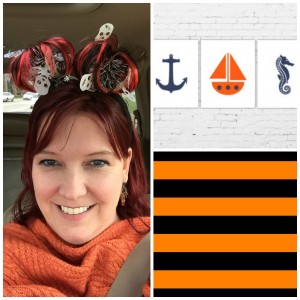 It's Halloween today and I'm wearing orange and black.
When I glanced at myself in the mirror this morning, I had to chuckle as I was reminded of a long-buried childhood memory that didn't come to mind until I saw these two colors together.
I've blogged before that mine was a family of sailing enthusiasts, and that we spent many childhood vacations on the family sailboat.
Once upon a time, as we were pining through winter and wishing for the summer sailing season, my Dad informed us that he would be purchasing a special sail – a spinnaker jib – for the boat. He polled each of us in turn about the colors we'd like to see on the sail.
This was the 80s – there was no website or app to visualize how the sail would look on your boat, as I'm sure there may be today. All we could do back then was pick some colors out of a catalog, order the sail and wait.
My dad quizzed my mom, my brother and I in turn – each of us as I recall voting for a different set of colors. At the time, I had no appreciation for how hard it would be for my dad to choose among our differing opinions. I naturally assumed, with the self-confident superiority of childhood, that he would pick MY proposed colors.
Months went by and soon enough, summer sailing season was underway. The sail had arrived in a blue sail bag and none of us peeked – we simply waited for the first occasion to haul it up the mast and see our new family colors proudly displayed.
I had voted for light blue and dark blue. My brother had voted for dark blue and red (how patriotic). I forget which colors my mom voted for… but I know for a FACT it was not the colors that ended up on that darn sail.
My dad, in all his wisdom, had decided the easiest thing to do in the face of differing opinions would be to order the colors he liked best. So he cast aside the family's preferences and went with what he thought would look really snazzy up on that sail: orange and black stripes. Let me say that again: orange and black stripes.
For a sailboat. For the giant, colorful sail at the front of the sailboat. Have you ever seen an orange and black sail at the front of a sailboat? I'm quite sure that you haven't. I'm sure that no one has – and a Google image search just now would seem to corroborate that.
It was completely off-season, jolting and off-putting. Sailing is about summer and wearing the color white and getting tan (but hopefully not sunburned) and flying nautical flags. Sailing is about the blue of the waves and the white of sea spray on your face and possibly even the queasy green of seasickness.\
Sailing is not about gigantic orange and black stripes like you might see on a witch's socks!!!
We were mortified. How could he go with his own misguided preference and disregard the wishes of the entire rest of the family?! Especially when his chosen colors were so UGLY!
Our family sailboat instantly became the most visually recognizable sailboat in Northport Harbor and the Long Island Sound. People called us the Halloween boat. They joked and laughed about it. It was memorable alright – no one who saw it ever forgot it. Years later, I've had people say to me, "Remember when your parents had that goofy orange and black sail on your sailboat?!"
And sails last for years, people – years. There was no growing out of that sail. It lasted as long as the boat did. My entire teen years were spent trying to duck out of going for sails on that darn boat, just in case my Dad decided conditions were right to raise that embarrassing spinnaker. I mean seriously, that black and orange striped sail was an eyesore! Or so I thought at the time.
Now, looking back, I realize that I probably should have embraced it. I know now that being memorable and unique is a good thing. Maybe we were letting our freak flag fly as a family – maybe we should have laughed about it instead of groaning in horror.
Maybe my dad's Halloween sail wasn't so bad after all – in fact, perhaps it was bloody brilliant. I can tell you that I would give my right arm for a photo of that darn thing, but alas none exist to my knowledge. (If you lived in Northport or another sailing community along the north shore of Long Island in the 80s and 90s, and you have a photo of a sailboat with a black and orange striped sail, PLEASE let me know!! I'd love to see it!)
It's Halloween today, and I'm a whole lot older. I love the colors orange and black now – for Halloween and anytime. I love that these colors have me thinking back fondly on my childhood, my parents and my teen years. That black and orange striped sail sure was something.
I hope that I don't embarrass and mortify Zoebelle as much as I felt my parents embarrassed and mortified me during my middle and high school years – but you know what? If I do, I hope it's over something she'll be able to chuckle about later in life – like an orange and black spinnaker.
So, how about you – what's your favorite childhood story about Halloween or something incredibly mortifying your parents did? As always, I'd love to hear in the comments below. And happy Halloween!