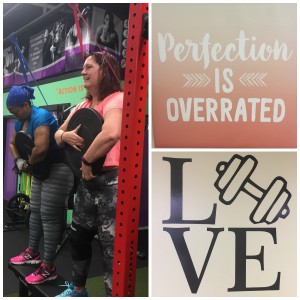 When I started my intensive workout program at Rock N Shock Fitness and pledged to get my eating back on a healthier track, I figured changing my eating habits would be the hardest part.
I've never had issues with intense workouts in the past. I assumed I'd be able to handle the classes at RNS just fine. And I have thrived in the intense gym environment – and risen to Master Breaker's challenges, for the most part!
However, I've run into a stumbling block I never could have predicted: somehow, in early January, I managed to tear my meniscus in my right knee. It won't heal on its own at my age, so I'm scheduled for surgery at the end of next week.
I am understandably nervous about surgery – it's my first planned surgery ever as an adult. But, I am so grateful to Master Breaker Danielle for continuing to work with me and modify classes to allow me to keep working out even while I am injured! 
Arthroscopic surgery should be no big deal, and I'm told I'll be on my feet again very soon after. I'm fortunate in that I am expected to make a full recovery within just a few weeks. But it's still nerve-wracking to think of having surgery! I'm struggling with that and trying to stay strong mentally.
Going to RNS to work out helps me calm my nerves and trust the process. Master Breaker has taught me how to adjust my cardio and strength workouts to allow my injured knee to get some rest. And, her willingness to continue working with me even though I can't go at full capacity has been a wonderful comfort during this time!
I'm grateful that I still get to feel strong even while part of me is weak, injured and painful.
I'm eager to be back at full strength and be able to do hard cardio at RNS again by May. I also have a long summer of outdoor running planned with my wonderful #SunriseRunCrew friends that I am enthusiastically looking forward to! But for now, I have to follow Master Breaker's advice, give the knee time and space to heal properly, and just keep doing what I can.
One thing I can and must do now is to focus on my eating and keep that as healthy and clean as I can. I've been doing a pretty good job of this and I'm down several pounds this year! More on that in another blog post.
How are you doing with your own fitness and health regimen – and have you run into any stumbling blocks like a knee injury? I'd love to hear in the comments below or over on Facebook.