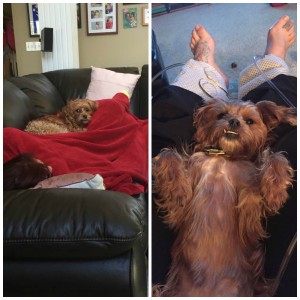 I had my right knee "scoped" on Friday, February 24. It's been exactly one week as of today. I'm trying to keep my spirits up but recovery seems awfully s-l-o-w. The one bright spot has been amazing nursing care from our little rescue dog, Dani, who literally has not left my side since I came home from surgery!
I'll go back to the doctor today to have my stitches removed and knee checked, and then I'll start physical therapy (PT) immediately afterward. I had this surgery to alleviate the knee pain I was experiencing. I wish I could say that the pain in my knee is better, but so far it's not.
Immediately after the surgery I had a different kind of pain – the expected post-surgery pain. I was able to manage it pretty well with the painkillers prescribed, alternating with Tylenol or Advil so I didn't take too much of the "good stuff." Since starting back at work on Monday, I've been just taking the over the counter pain meds during the day, and allowing myself one prescription pill each night if I need it.
During the latter part of this week, as I've been moving around more and getting out of the house, the old familiar knee pain has started to crop up again so I have both the post-surgery pain AND the old knee pain. This has bummed me out majorly.
Yesterday was NOT a good day for me knee-wise. I had to get out and go to a meeting downtown, which involved a fair amount of walking. By end of day I was crabby, in a huge amount of pain and had to cave and go back to the prescription painkillers – just as I was hoping to stop using them entirely.
I am sure the doc will say I've got to lower my expectations and allow myself time to heal. Maybe I pushed it too much yesterday – I got more than 4,000 steps and that was obviously too much for my poor bum knee to handle. But work has to go on! I have worked from home for most of this week and only drove down to my office for a few meetings that were very important.
I think the lesson for me now is to be patient, take it easy and give myself time to heal. It's only been a week. I am sure I'll see more improvements in week two. But I sure am missing Rock N Shock and wishing I could be there at the gym working out with Master Breaker Danielle and all the ladies there!
More to come as I continue to heal. Got any advice for someone recovering from knee arthroscopy? I'd love to hear it!